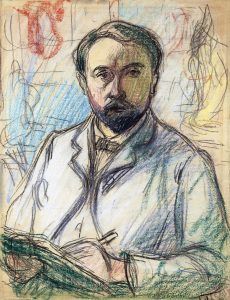 Movements: Post-Impressionists
Claude-Emile Schuffenecker (1851 – 1934) was a French Post-Impressionist artist, painter, art teacher and art collector. A friend of Paul Gauguin and Odilon Redon, and one of the first collectors of works by Vincent van Gogh, Schuffenecker was instrumental in establishing The Volpini exhibition, in 1889.
His own work, however, tends to have been neglected since his death—and even worse, recent season campaigns in the media have reactivated resentments virulent since the late 1920s, when Schuffenecker was suspected to have imitated the work of other contemporary artists, among them, Van Gogh.
Claude-Emile Schuffenecker, son of Nicolas Schuffenecker (1829–1854) and Anne Monnet (1836–1907) was born in Fresne-Saint-Mames (Haute-Saone). His father, a tailor originating from Guewenheim (Alsace, today Haut-Rhin), died when Emile was little more than two years old; the same year his brother Amedee was born in Charentenay (Haut-Rhin). The widow with her two boys moved to Meudon, close to Paris, where part of her mother's family lived, and where she had found work at a laundry. In the years to follow Emile was raised by his mother's sister, Anne Fauconnet Monnet, and her husband Pierre Cornu in Paris, educated by the Freres des Ecoles chretiennes, and started work in his uncle's business, a chocolate and coffee-roasting facility in the Les Halles quarter.
On 28 February 1872, Schuffenecker joined the broker Bertin, where he met Paul Gauguin; they became close friends. Both used to study the Old Masters at the Louvre, and worked at the Academie Colarossi.
By 1880, both Schuffenecker and Gauguin evidently had gained enough money to leave Bertin – just in time before the French Panama canal project began to turn into a disaster – and to try to stand on their own feet: Both opted for a career in the arts, and probably for additional income at the stock exchange. Then, in January 1882, the Paris Bourse crashed, and while Gauguin chose to remain independent, Schuffenecker decided to apply for the diploma to teach. Two years later, he was appointed to teach drawing at the Lycee Michelet in Vanves, with the painter Louis Roy as a collegial friend.
Schuffenecker died in Paris, 33 rue Olivier de Serres, and was buried at the Montparnasse cemetery on 3 August.
Click here to read Schuffenecker's full bio on Wikipedia.
Schuffenecker spent most of his artists days between Normandy, Brittany and Paris. Here are most of the places he painted in (a link "⇠" to his works will appear when published):
Related Posts
97

Gustave Loiseau was a French Post-Impressionist painter, remembered above all for his landscapes and scenes of Paris streets. However he did paint a lot in Normandy,

97

Maurice Brazil Prendergast (1858 – 1924) was an American Post-Impressionist artist who worked in oil, watercolor, and monotype.

96

Henri Lebasque was a French post-impressionist painter who painted throughout France. He worked on the decorations at the theatre of the Champs-Elysées and of the Transatlantique sealiner. He was friends with other artists like Raoul Dufy, Louis Valtat, and Henri Manguin.

96

Samuel John Peploe (1871 – 1935) was a Scottish Post-Impressionist painter, noted for his still life works and for being one of the group of four painters that became known as the Scottish Colourists. The other colourists were John Duncan Fergusson, Francis Cadell and Leslie Hunter. Peploe was strongly influenced…