Food: French
Price: Expensive
Rating: Good
Website: Le Belouga
The "Le Belouga" restaurant is located in the swanky and luxury hotel & spa l'Agapa. Located close to the entry of Perros-Guirec almost at the top of the hill, its views are amazing.
The Le Belouga restaurant is located on the 1st floor of the hotel (which is also the main entry floor to the hotel), with enormous windows overlooking the bay and the 7-islands.
Until recently the restaurant and its chef had been decorated with one Michelin star, but in 2014 they lost the star.
The Food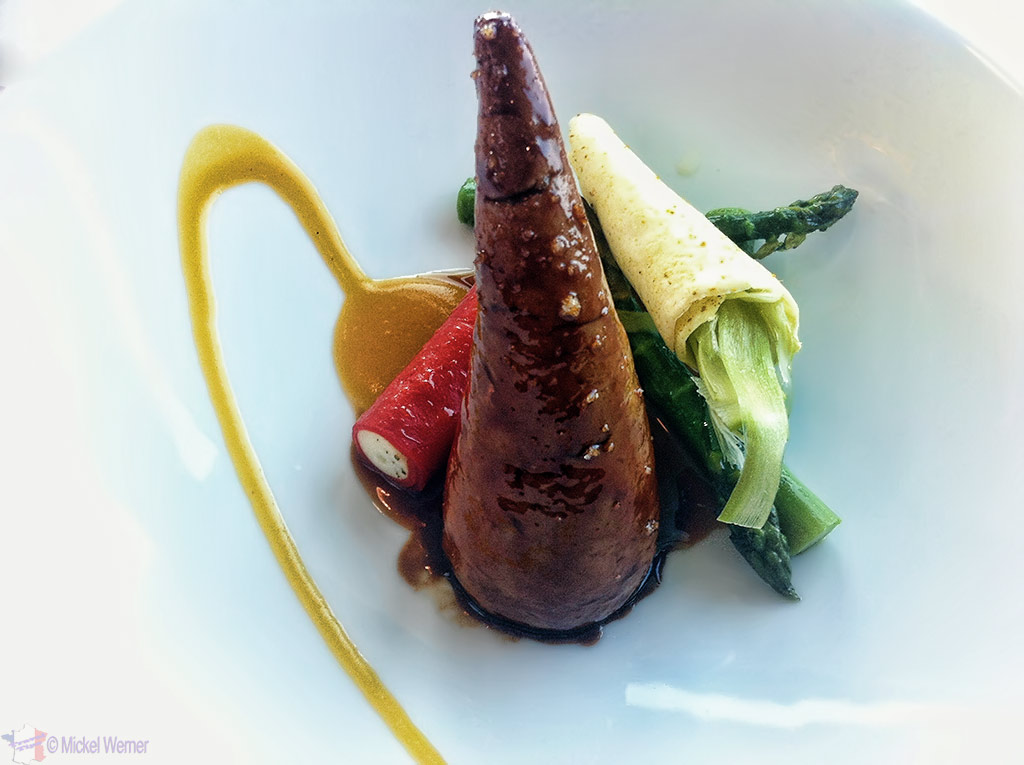 The food is modern, quite minimalist but not "nouvelle cuisine". The food is more than good, close to excellent but despite the efforts made on the presentation, the dishes leave you with a feeling that some more gourmet creativity would have gone far. In fact, it feels that presentation was more important than the meal itself.
But nevertheless, the food is interesting and different and tasty.
Prices
The prices for your meal are going to be pretty steep, but apart from the food, you'll be paying for the view. Even in the back of the restaurant, your view will be great.
A weekday lunch menu will cost you around €30, excluding drinks, and the normal menus cost €48 and €75, both excluding drinks.
Ambiance
The feeling in the restaurant is bit stiff, a bit forced. But there's no problem arriving in your jeans, you'll not feel out of place.
Service
Service in the restaurant is fine and attentive, even pleasant.
Summary
Food is fine, but if you're looking for high-class food you'll need to try the Michelin 2 star restaurant in the town. But we did enjoy our meals there, and as stated above, the view is fantastic.
Related Posts