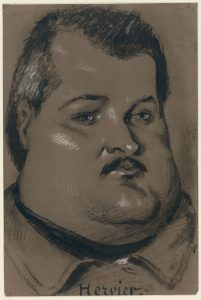 Movement(s): Impressionism, Romanticism
Adolphe Hervier, in full: Louis-Henri-Victor-Jules-François-Adolphe Hervier (1818 – 1879) was a French painter and engraver, known for his rural genre scenes. Over his lifetime, his style changed from a strict Romanticism to an early type of Impressionism.
He was the son of a painter but had a difficult life in the beginning making it as a living. In addition to his numerous oil and watercolor paintings, he produced engravings by etching, aquatint and lithography.
Despite being Parisian, his favorite painting locations were in Normandy; including Honfleur, Le Havre, Rouen and Granville. Camille Corot helped promote his work, but he made little money and was employed painting landscape backgrounds for more prestigious artists.
Click here to read Hervier's full bio on Wikipedia.
Hervier painted several other places in Normandy and a few others in France ( a link "⇠" to his works will appear below when published):
Grand Est
Hauts-de-France
Normandy
Related Posts