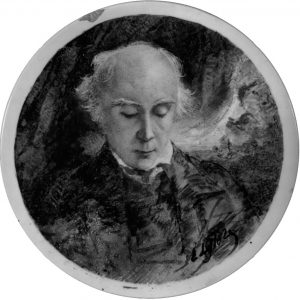 Movement(s): –
Thomas Shotter Boys (1803–1874) was an English watercolour painter and lithographer. Thomas was born at Pentonville, London, on 2 January 1803. He was articled to the engraver George Cooke.
When his apprenticeship came to an end he went to Paris where he met and came under the influence of Richard Parkes Bonington, who persuaded him to abandon engraving for painting.
Some sources describe him as a pupil of Bonington, although William Callow, who later shared a studio with him in Paris, disputed this.
His most important work, Picturesque Architecture in Paris, Ghent, Antwerp, Rouen, etc., a collection of colour lithographs, appeared in 1839, attracting a great deal of admiration.
Drawn on the stone by Boys and printed by Charles Joseph Hullmandel, it was described in a review in the Polytechnic Journal as "the first successful effort in chroma-lithography [sic] hitherto brought to perfection". King Louis-Philippe sent the artist a ring in recognition of its merits.
Click here to read his full bio on Wikipedia.
Boys painted several places in Normandy, which will be featured eventually on this site. A link "⇠" to those cities will appear below when published.
Auvergne-Rhone-Alpes
Hauts-de-France
Normandy
Occitanie

Aigues-Mortes
Cahors
Lodeve
Nimes
Rodez
Saint-Cere
Souillac
Villeneuve-les-Maguelone
Related Posts