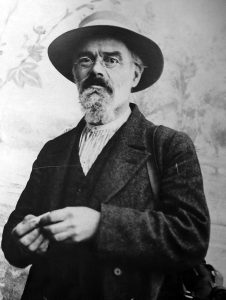 Movement(s): Neo Impressionism
Maximilien Luce (1858 – 1941) was a prolific French Neo-impressionist artist, known for his paintings, illustrations, engravings, and graphic art, and also for his anarchist activism. Starting as an engraver, he then concentrated on painting, first as an Impressionist, then as a Pointillist, and finally returning to Impressionism.
His parents, of modest means, lived in the Montparnasse, a working-class district of Paris. Luce attended school at l'Ecole communale, beginning in 1864.
In 1872, the fourteen-year-old Luce became an apprentice with wood-engraver Henri-Théophile Hildebrand (1824–1897). During his three-year xylography apprenticeship, he also took night classes in drawing from instructors Truffet and Jules-Ernest Paris (1827–1895). During this period, Luce started painting in oils. He moved with his family to the southern Paris suburb of Montrouge. His art education continued as he attended drawing classes taught by Diogène Maillard (1840–1926) at the Gobelins tapestry factory.
Luce spent four years in the military, starting in 1879, serving in Brittany at Guingamp. The next year, he received a promotion to corporal, and he became friends with Alexandre Millerand, who, in 1920, assumed the office of President of France. In 1881 he requested the restoration of his lower rank of soldier, second class. Carolus-Duran used his influence to get a transfer for Luce to Paris barracks. His stint in the military came to a close in 1883.
Starting near the early part of the twentieth century, his identification with the Neo-impressionists began to disappear, as he became less active politically, and his artistic style shifted from Neo-impressionism, and he resumed painting in an Impressionist manner. Some of his paintings during this period depicted wounded World War I soldiers arriving from the battlefront to Paris.
Click here to read Luce's full bio on Wikipedia.
Luce painted many paintings during his lifetime, a lot of them in Normandy. Here are the places he painted mostly in France (links "⇠" to his works will appear below when published):
Bourgogne-Franche-Comte (Burgundy)

Auxerre
Bessy-sur-Cure
Cussy-les-Forges
Vermenton

Brittany

Kermouster
Lezardrieux
Saint-Servan

Normandy
Pays de la Loire
Provence-Alpes-Cote d'Azur
Related Posts
86

Leon-Jules Lemaître (1850 - 1905) is a French painter from the School of Rouen. A student at the Ecole des Beaux-Arts in Paris, he painted mainly urban scenes in Paris or Rouen. Not much else is known about this artist.

83

Luigi Loir, a French painter and lithographer, born in Austria. He amongst other illustrated one of Jules Verne's book.

83

Florent Fidèle Constant Bourgeois (1767 – 1841) was a French landscape painter, engraver, and lithographer. He studied under Jacques-Louis David, but spent much of his time in Italy.

83

Maxime Maufra was a French landscape and marine painter, etcher and lithographer. He painted quite a few paintings in Normandy.