Driving abroad can often be stressful; rules are different, street signs are in a different language and driving customs are not like the way it is at home. Here are some of the differences or special items to watch out for when taking your car into France.
For tips on driving in France with a camping car, click here.
For tips on driving in France with a motorcycle, click here
The first, and most important rule if you come from the UK, is that you drive on the RIGHT, and in most cases (unless signs say otherwise), priority is given to the RIGHT!
Here's what you'll find in this article:
Roundabouts
More and more roundabouts are being created in France (probably copying the UK). In most cases, unless specified in advance, you do NOT have priority when entering the roundabout.
All vehicles (even cyclists) on the roundabout have priority!
NOTE: Remember, when coming from the UK, the roundabout is turned into AGAINST the clock (anti-clockwise; turn right)!
When you don't have priority, the road sign will be as follows:
NOTE: It is mandatory to turn on your indicators when exiting the roundabout (i.o.w. turn on your right indicator when exiting the roundabout). It's also a good practise to have your indicator turned to the left when turning around, showing the cars coming onto the roundabout that you are still planning to turn.
WARNING: Not turning on your indicators (also when overtaking or changing lanes) will see you fined €22 and the loss of 3 license points!!
Mandatory Equipment
There are a few things you MUST have in your car (apart from the obvious driving license, insurance and car registration). In other words, if you get stopped, the police may ask you to show that you have these items onboard, even if you are a foreigner driving a foreign registered car!
The mandatory items are:
High Visibility Vest: The yellow or orange fluo vest are mandatory, and the law states that when you need to stop alongside the road, you and your passengers MUST put on these vests, leave the car and move away from the road. If you have a flat tire, replace it as safely as you can while your passengers stay away from the car as far as possible.
Breathalyzer: By law you must have at least one Breathalyzer in your car (they recommend two, since if you've used one and get stopped, you'll have none in your car), HOWEVER, if you don't have one, that's okay since you'll not be fined. Yes, it's a strange law, but it's the result of massive protests by car drivers in France, so instead of removing the law, the government just said you must have it but if you don't, that's fine too.
Snow Chains: When driving in the mountains in the winter, snow chains are mandatory. When you reach an area where it is mandatory to use chains, this is the sign you will see:


Warning Triangle: A breakdown triangle, red and reflective is mandatory.
Spare Light Bulbs: You need a set of spare light bulbs in your car.
Country Sticker: You need to have your car's registration country sticker on the back. I.o.w. if your car is registered in Britain, you need a "GB" in the back, even if your nationality is different.
Clean Air Stickers: Not mandatory unless travelling through a city that requires them AND ONLY during high-pollution days. Called Crit'Air in French, these are windscreen stickers that show a number and a colour that identifies your car's pollution level. The number and colour depend on the date your car was first registered for the road.
During peak pollution days (Paris and a few others), only numbers below the programmed level are allowed into the city. For example, electric vehicles are Crit'Air level 0 while 30 year old diesel cars are level 5. They cost a few Euros to buy, but if you are caught during a peak pollution day without one, you will be fined €68 on the spot for car (€135 for trucks).
You can order the Crit'Air sticker by clicking here. To find out which (growing) list of cities that can ban cars during peak pollution days, click here.
NOTE: These only apply to the cities that will use them in case of high-pollution days.
The signs showing where the restricted driving zones that are affected by the pollution laws are shown below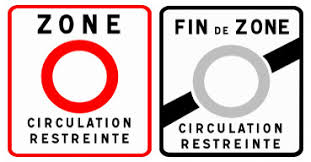 NOTE: The zones are only active when heavy pollution is expected (usually during warm windless days).
Laws
Mobile Phones: Use of mobile phones without a wireless car speaker system is highly illegal. In other words, even if you have a wireless (Bluetooth) headset, you are NOT allowed to use it while driving. Only handsfree speaker sets are allowed.


Penalty

: €135 fine and 3 license points. The cops are also allowed to immediately, and on the spot, remove your driving license!
Seat Belts: Mandatory for all.


Penalty

: 3 points and a fine of €135
Children: Children under the age of 10 should have specially adapted & approved seats or boosters with harness.
Age: You need to be 18 years or older to drive a car in France, even if you are allowed to drive one earlier in your own country.
Radar Detectors: Highly illegal! You can face very stiff fines, forfeit of your car and loss of driver license. No exceptions!


Penalty

: €1500 fine and 6 points. Plus your equipment is seized.
GPS: GPS are fine as long as they don't pinpoint radar locations. Make sure you have updated the GPS software (not just the maps), since they need to obey the current laws.
PEDESTRIANS. Pedestrians are HOLY! When someone is crossing a pedestrian crossing (zebra crossing), the moment one foot is on the road, YOU MUST STOP! However, the new laws put any accident involving a vehicle and a pedestrian, even outside pedestrian crossing zones on the shoulders of the vehicle driver, so BE AWARE! However, it does not mean that car drivers will respect the law; they are French after-all.
Studded tires: Studded tires are allowed after November 1st until 31st of March, unless the weather is really bad. Max speed is limited to 90 kph and you are required to place a 90 kph sticker in the back.
White lines: Believe it or not, continuous white lines are holy, especially for the police. Inadvertently driving over a full white line with only two wheels will see you fined


Penalty

: €90 fine and 1 license point
White lines: Going fully (with all wheels) over a continuous white line is punishable by death ( 😉 )


Penalty

: €90 fine and 3 license points
Accelerating while being passed: If you accelerate while another vehicle is passing you, you will be fined:


Penalty

:€90 fine and 2 license points
Tinted Windows: Front and driver/passenger windows are not allowed to be tinted for more than 30%. Rear passenger and rear windows can be tinted. The only exceptions are if you have one of the special eyes illness (protoporphyries érythropoïétiques, porphyries érythropoïétiques congénitales, xeroderma pigmentosum), but you will need to always have a medical certificate with you.


Penalty

:€90 fine and 3 license points (plus possible immobilisation of your car).
Tunnels: When approaching a tunnel, and you see the following sign, it means you MUST turn on your lights!


| | |
| --- | --- |
| | |
| Turn ON your lights zone sign | End of light on zone sign |
Speed Limits
There are different road types and therefore different speed limits. WARNING, speed limits change if it's raining, so be aware:
Dry
(kph)
Rain
(kph)
Fog
(less 50 meters)
(kph)
Motorway (Autoroute)
130
110
50
Dual Carriage/Lesser motorways
110
100
50
National roads (D and N)
80 *
80
50
City
50
50
50
City limits are shown with the following signs:
They also signal the start and end of the 50 kph speed limit, unless a different speed limit is applicable (usually 70 or 30 kph). Small hamlets (known as "Lieu-Dit" in French) usually have the same speed limits, but if this is not the case, you will be notified of the speed limit. A "Lieu-Dit" is signalled with this kind of sign:
After a speed limit has been posted, you will often see signs like this
It is a reminder of the speed limit, and is usually repeated several times for the duration of the speed limit.
Penalties for speeding are VERY stiff and can mean going to court:
Speed
Fine in €
Points
License
Jail
Less than 20 kph
68
1
Less than 20 in 50 kph zone
135
1
Between 20 and 30 kph
135
2
Between 30 and 40 kph
135
3
Suspended 3 years
Between 40 and 50 kph
135
4
Suspended 3 years
Over 50 kph, 1st time
1500
6
Suspended 3 years
Over 50 kph, more times
3750
6
Suspended 3 years
Forfeit of Car,
3 months jail time
Speed Radars
There are now thousands of speed radars installed all over France. Many are of the latest generation radars that can detect vehicles on both sides of the road and in multiple lanes, all at the same time.
They can be found mostly on the motorways, but on country roads you can occasionally find one as well. The sign that tells you that you are approaching a radar looks like this:
The sign is placed in front of a zone about 5 kilometres long. The radar can be anywhere in that zone. The radar equipment itself can be either on the left or right of the road.
You can also see these signs frequently anywhere on the roads or in the cities:
This does NOT mean there is a radar ahead, just a warning that at times a radar may be placed here. That is because there are also 100's of mobile radars manned by police along the road, from handheld radars to units placed inside unmarked cars!
Another radar type that is increasingly becoming popular is the "Average Speed Radar". This involves the radar taking a photograph at a certain point on the motorway (of all lanes) or popular country roads, not to forget tunnels, and many kilometres further up, another photo is taken. Then the computer will analyse the time it took for you to travel from one point to the other.
NOTE: In the Fake News category, the time travelled between two toll stations is not taken into account. The politicians want it to happen since there is very little cost required to make it happen, however the motorway operators are resisting. But eventually it will happen, but today, no worries.
Alcohol
The maximum blood alcohol levels have been lowered to very low levels, typically one glass. The maximum alcohol level is 0.5mg/ml!
Fines for alcohol level of 0.5 to 0.8 mg/ml are €135 (and loss of 6 license points), while driving with an alcohol level of over 0.8 mg, will be fined €4500 not to mention the loss of 6 license points.
Types of Roads
Like any country, there are different types of roads. At the top of the pecking order are the motorways, called "autoroutes" in France.
Motorways
They are designated by the letter "A" followed by a number and only vehicles that can reach the minimum speed (usually 80 kph) are allowed to drive. In French, a motorway is called "Autoroute". These are mostly toll roads (in French "Peage"), though you will still find free motorways. The motorway network is very extensive, covering all parts of France. Autoroutes are well maintained and serviced. There are usually gas stations and rest areas (called "Aires" in French) along the way (every 20 to 50 kilometres).
For more information about the motorways, click here.
Autoroute tariffs are applied for each category of vehicle. The tariffs depend on the motorway operator, but the categories are (more or less) universal. More or less because there are one or two exceptions due to specific regulations. The vehicle categories are:
Here are some special items for the French motorways that you may want to know:
Distance Markers
All along the motorways, in the centre, you will see every kilometre, a distance marker and the autoroute number:
The top number is the autoroute number, the bottom number is the distance in kilometres from/to the main city where the autoroute started or will terminate.
Rest Areas
Rest areas, called "Aires" in French, can usually be found every 20 kilometres or so (depending on the motorway operator). You will see the signs along the way as follows:
You can find toilets at these areas at a minimum, but also gas stations, food and/or entertainment.
Respect Vehicle Distance
Sometimes along the way you will see these signs:
The right white road markers have been positioned at the right distance for you to gauge your distance to the vehicle in front of you. 1 white stripe is too close, 2 stripes is the the right distance measured for the maximum speed allowed on that motorway.
Not respecting the distance is punishable with a fine of €90 and the reduction of 3 license points. However, it seems like this is never ever enforced.
Toll roads
Toll roads (Peage in French) are marked just before you get onto them:
The word "Peage" will feature on the blue signs telling you that there's a toll road ahead. You can see from the photo above the RED Autoroute number and the GREEN European motorway numbers.
The cross signs at the bottom of the two poles are indicators that you are going to arrive at a crossing/intersection within 500 meters.
Just before you reach the toll plaza, you will see this sign:
Arriving at a toll will look like this:
There are specific signs for each type of gate:
The manned toll gates are slowly disappearing, replaced with automated systems. The badge gates are for those that have an electronic badge and a subscription.
There are two types of toll roads:
A flat fee per vehicle type, no matter what the distance you have covered
A fee based on the distance you have travelled.
For the latter, you will need to take a ticket at the entry of the motorway, and place the ticket in the reader when you exit the motorway. At the motorway entry, you will see this sign:
Most toll roads have a radio station informing you of road and traffic conditions. Most of these stations have been harmonised to the same frequency, FM 107.7. In most cases, where the radio can be captured, you will see the start of the zone with this sign:
The radio presentation is in French, but for regular or special road & traffic alerts, they will often have an English session (usually with very strong French accents). For the rest it's music.
National
National roads, marked with the letter "N" are roads that transverse different regions/states (=departements). They are usually pretty well maintained. Maximum speed is currently 80 kph, unless it's a dual carriage way, which can have a maximum speed of 110 kph.
Departemental
Departemental roads, marked with a "D", are roads within a "departement" (the French equivalent of a state). They are serviced locally, and therefore are not always in the best conditions, though it differs between region.
There are also "C" roads, but those are very small, usually dirt roads in between villages.
Deviations
When there are road works, or roads are closed, they often, but not always, put up a sign that the road has been deviated. The sign looks like this:
Theoretically, there should be several signs like this for you to follow until you are brought back to the road you where on, but as you can expect, this is rarely the case. You'll need to hunt for the signs yourself. Or just trust your GPS.
City Parking
Parking in cities can be different, not only per city, but by area in the city itself. More and more cities are placing ticketing machines near sidewalk parking spots that allow you to buy a certain time in a parking spot using just your smartphone. Others require you to pay with coins or credit cards.
Several cities with smartphone operated ticketing machines now have unmarked cars with a license plate reader that scan parked cars while driving. No longer will you see meter-maids issuing handwritten fines.
Some villages in France still require the use of old fashion cardboard parking cards. These parking spots are free to use, but are limited in time.You place the cardboard or plastic parking card, with the time you have arrived on the dashboard. This way a police officer can see if you have extended your stay and fine you if you have.
You can see these zones where you require a parking card with the sign on your left. The cards itself can be bought in a "Tabac" (tobacco, magazine shop) and is called a "Disque de stationnement". Amazon France have them available for €1 – €5.
A parking card looks like this:
Residential Parking
Parking in residential zones can be limited to permit holders only, but often you will see these signs (particularly in narrow streets):
These show that you are only allowed to park on one half of the street side, depending on the date of the month, left or right. E.g. on the signs above, you need to park on the left on the 1st half of the month, on the right, during the 2nd half.
Customs/Habits
Obviously customs differ from region, and even by person, so these are just rules of thumb, however, the one thing to always remember: for French driver, the "Rules of the Road" are only a guideline! They'll make up their own rules while driving, but you are expected to follow them to the letter!
On motorways, the left lane is considered the "fast" lane. In todays restricted world it really doesn't matter, but still cars are expected (even by law) to merge to the right. But since the left lane is considered the "fast" lane, it means in the more-than-2-lanes-motorways, the right most lane is considered the "slow" lane, and few cars see themselves as slow, so they stick to the middle lanes (you are NOT allowed to pass them on the right).
Few French drivers uses indicators when turning, even though the law obligates them to do so. Let's face it, "Pierre has been driving that road for 30 years, and he always takes a right at the junction, so why should be indicate. Everyone knows it, right?"
When a motorcycle appears behind you, driving on country roads, move to the right to let the bike through. On the motorway on the left lane, move more towards the left to allow the bike to pass in between lanes. The biker when passing will stick out his/her foot. This is not an insult, but a thank you (their hands are too busy to let go of the handlebar).
Honking and tailgating is a way of life in the big cities, but don't try it in the countryside.
Especially in big cities like Paris, parking is a creative "art". Do not be surprised to see cars parked anywhere they can, even if it's a hinder to other cars or pedestrians.
Related Posts