The High Speed Train (TGV) is the premium fast rail service offered by the French railroads, the SNCF. It's followed by the inter-regional service called "Intercites". And finally there's the regional service called TER (Transport Express Régional). This service links small cities, towns and even villages in the same region together, and brings them to one of the bigger rail hubs.
WARNING: The TER is a generic term, and usually means a train, but it can also mean a bus service. When the traffic numbers are too low for the SNCF for a particular railway station, they can replace the rail service with a bus service. They depart and arrive at published times (published in the rail timetable), but if the weather is bad, you're in for a surprise.
Network
The TER network is extensive (but diminishing). It's way too big to show in one map. Each region has its own map. Here is the TER map of the Upper France region ("Haute-de-France"):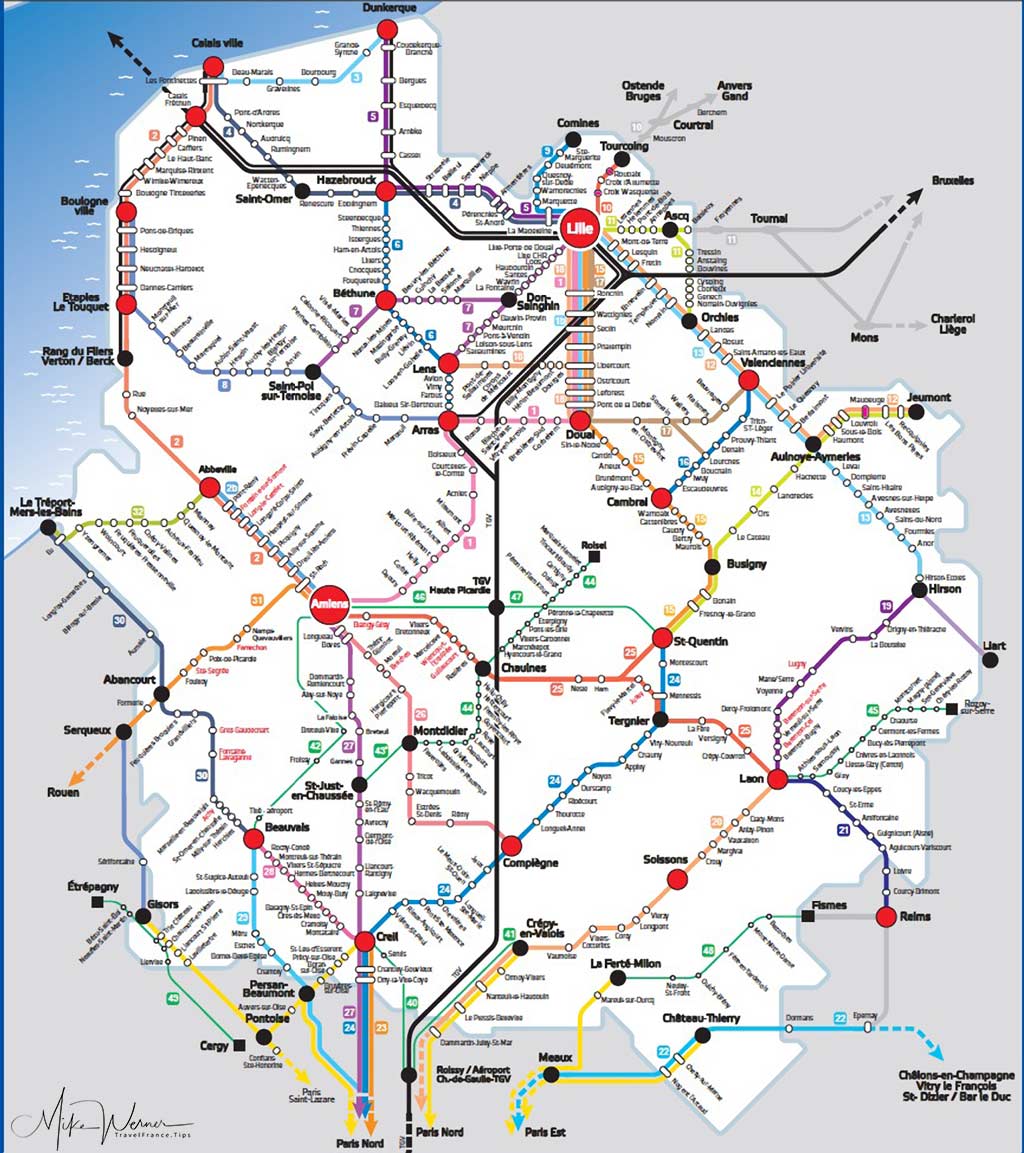 The regional train above serves 363 stations with 32 rail lines (and 8 bus lines).
Since the TER can stop at small stations that do not have big rail lines, several of the TERs are diesel-powered, allowing them to reach stations that have no electricity lines.
Comfort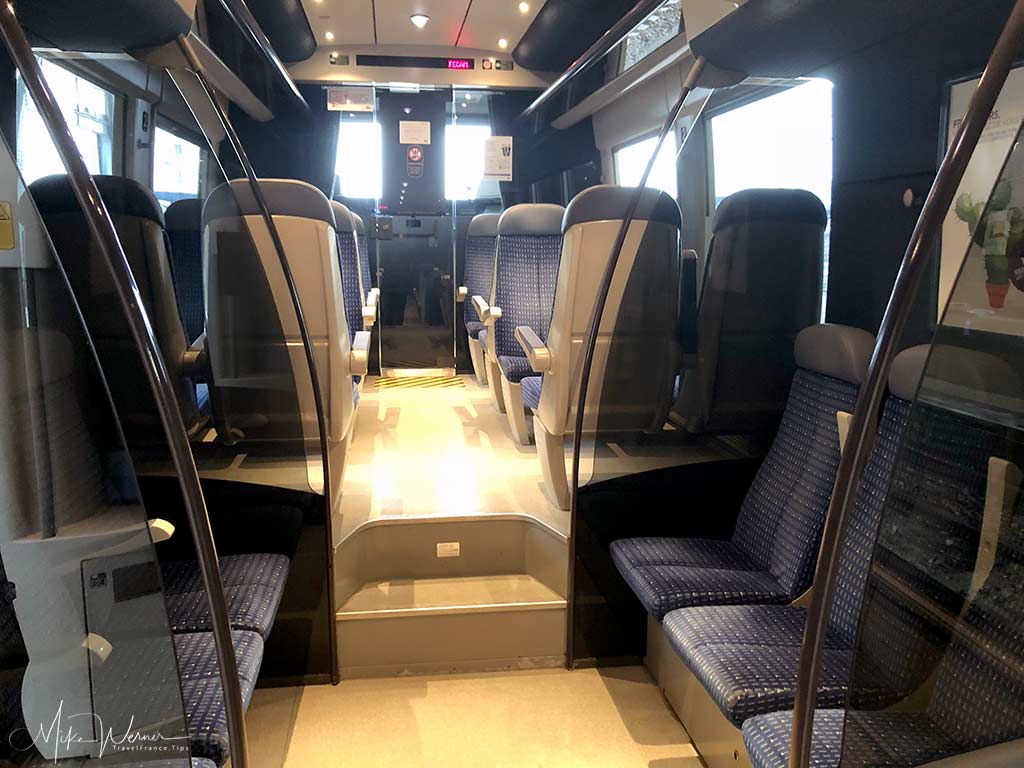 Inside these modern TER trains, it's spartan but reasonably comfortable considering that the distances of the rail line are short. Plenty of space to sit and carry items like bicycles.
Wheelchairs
All TERs are equipped to handle wheelchairs, but it's a good idea to notify the railroads in advance that this is the case (wheelchair space is limited). Most stations are now equipped to handle wheelchairs, including special elevators.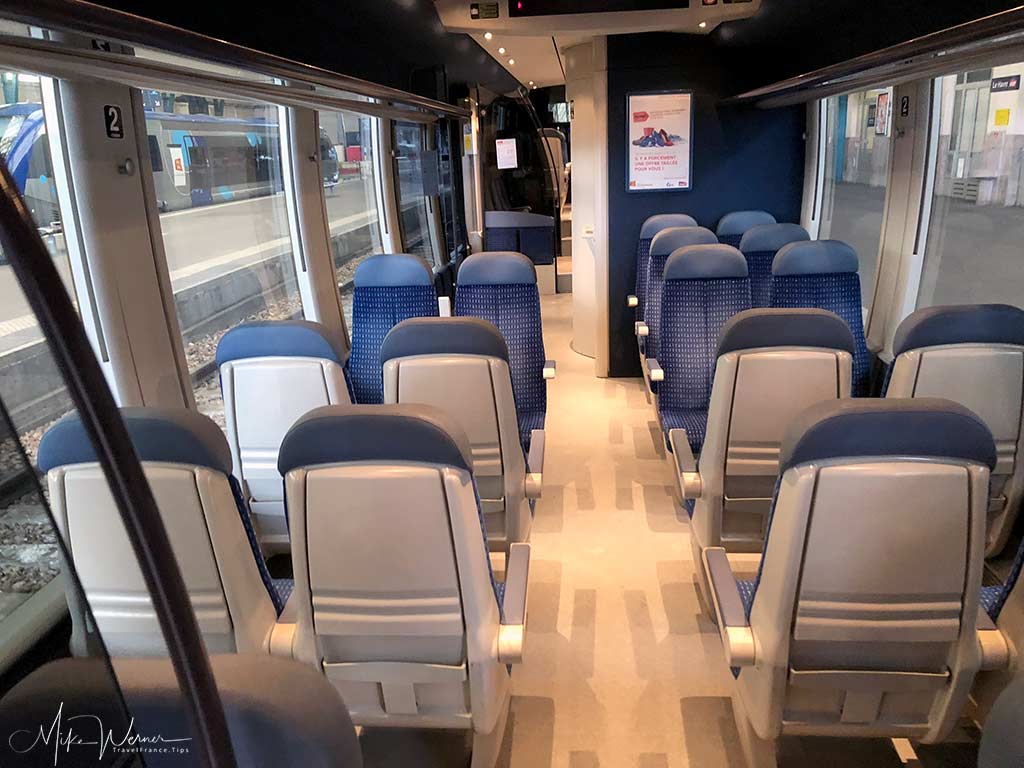 There is no First Class available on TER lines.
Prices
The tariffs are region dependant. The region sponsors the train at their own desired rate, so some regions invest a lot of money and therefore the ticket prices are low. All regions have monthly subscription possibilities for frequent travellers.
For more information on destinations and prices, click here to access the official TER web site. (in English)
Hints/Tips
Related Posts