Transport
Getting there
By Car

By Train
From
Via
Time
Time
Calais
A16, A28, A13, A84, N176, N12
7:50 hours
NOT SERVED
Paris
A11, A81, N12
6 hours
NOT SERVED
Dieppe
A28, A13, N176, N12
5:45 hours
NOT SERVED
Le Havre
A13, A84, N176, N12
5 hours
NOT SERVED
Cherbourg
A84, N176, N12
4:30 hours
NOT SERVED
Marseilles
A7, A54, A61, A62, A10, A87, N165, N265
11:45 hours
NOT SERVED
There is no railway station, the closest for long distance travel is at Brest.
Air: The closest international airport is Brest, 33 km away.
Ferry: There are no ferries coming here, the closest ferry harbour to the UK is at Cherbourg (450 km) or Le Havre (500 km).
Bus: There are NO long distance bus operators going to this city from different cities in France (and Europe). There is a scheduled bus service from the Brest railway station. Click here to find out more (in French only).
Within Pointe Saint-Mathieu
There's a large car park in front of the lighthouse. Everywhere else, it's on foot!
Restaurants
There are "only" three restaurants, two of them belong to the main hotel. The other is a creperie (pancakes).
Hotels
Below is a map with the 2 hotels in the immediate area. Personally, we loved the Hostellerie De la Pointe Saint Mathieu (click here to access their website – In French only)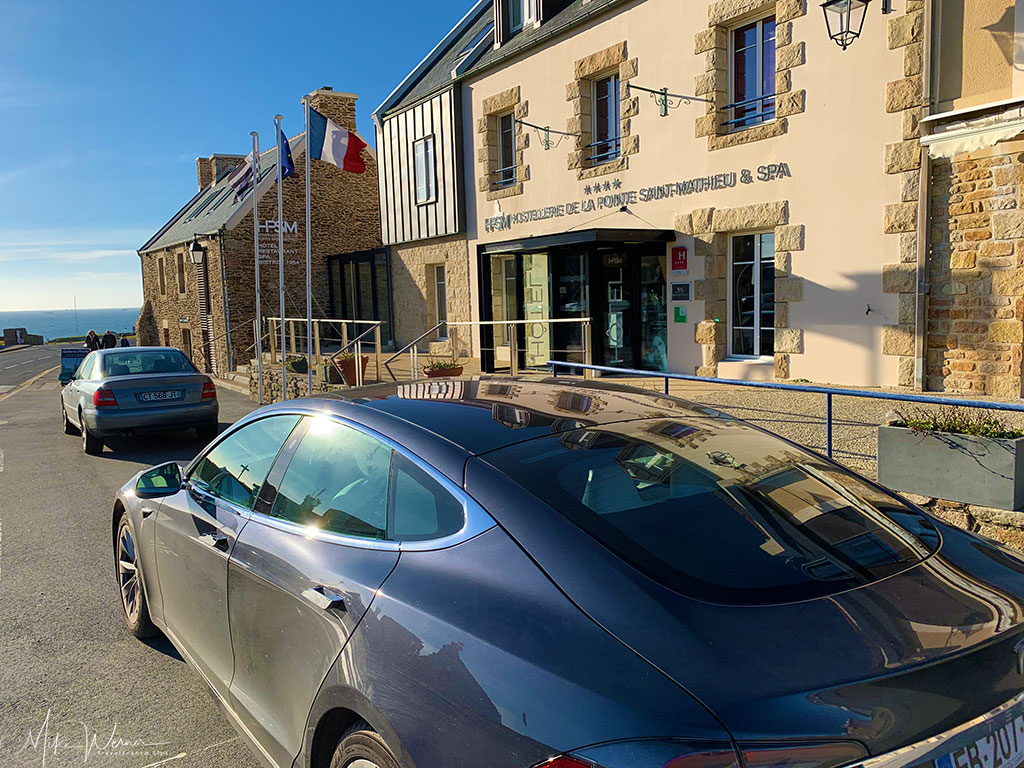 Things To See/To Do
Visit the lighthouse and climb to the top for an incredible view


Walk through the ruins of the big abbey and discover its secrets


Visit the Memorial for the Sailors who gave their lives for France (click here to read our review).


Visit the very well done Museum for the 39-46 Memories located in the German WWII bunker (click here to read our review).


Related Posts