This page forms part of a series of pages dedicated to the many artists who worked in Lisieux. A full list of all the artists with a link to their works can be found at the bottom of this page.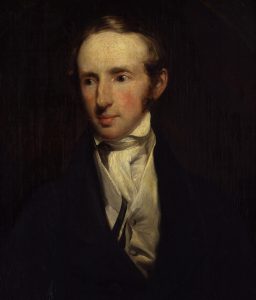 Movement(s): –
Samuel Prout (1783 – 1852) was a British watercolourist, and one of the masters of watercolour architectural painting. Prout secured the position of Painter in Water-Colours in Ordinary to King George IV in 1829 and afterwards to Queen Victoria.
To earn a living, he painted marine pieces for Palser the printseller, took students, and published drawing books for learners. He was one of the first to use lithography. It was not however until about 1818 that Prout discovered his niche. Happening time to make his first visit to the Continent, and to study the quaint streets and market-places of continental cities, he suddenly found himself in a new and enchanting province of art. His eye caught the picturesque features of the architecture, and his hand recorded them with skill.
At the time of his death there was hardly a place in France, Germany, Italy (especially Venice) or the Netherlands where his face had not been seen searching for antique gables and sculptured pieces of stone.
Click here to read Samuel Prout's full bio on Wikipedia.
NOTE: Click on any image below for a bigger version (no new window will open).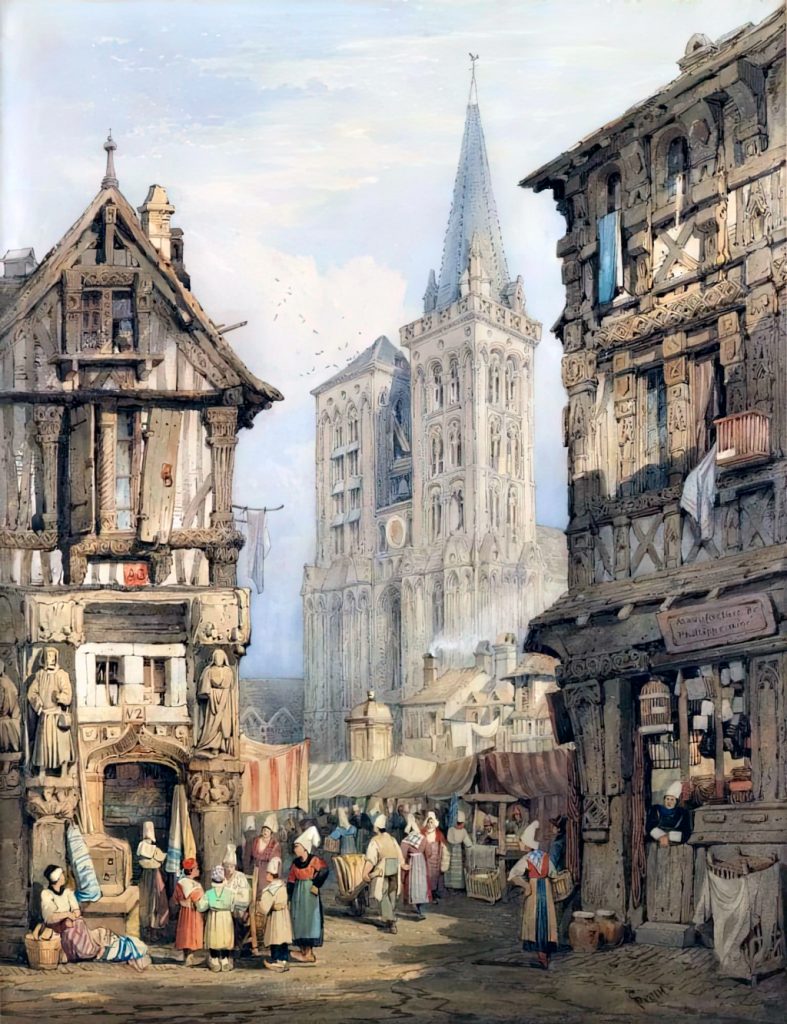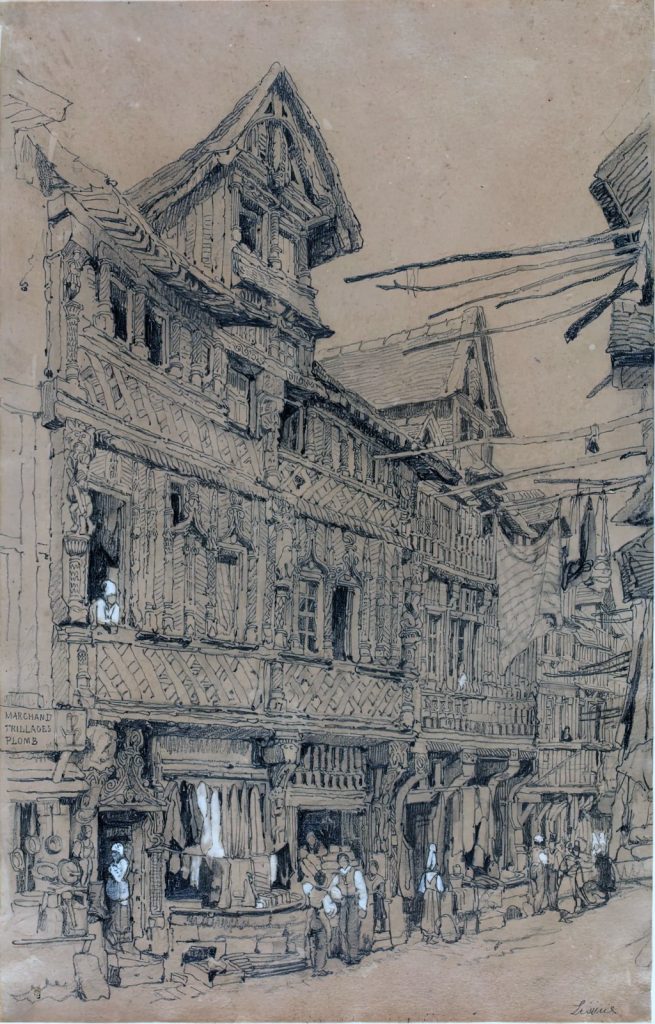 Prout painted several other places in France, but mostly in Normandy. A link "⇠" to those cities will appear below when published:
Auvergne-Rhone-Alpes
Brittany
Centre-Val de Loire
Grand Est
Hauts-de-France

Abbeville
Beauvais
Calais
Lens

Normandy
Lisieux was (and is) a town that saw a good number of artists working there. It's an old but well preserved town. Here are some of the artists that have come to apply their art in the town (a link, symbolized by a "⇠", to the artist's works will appear when published. A "*" indicates that the artist did not work directly in Lisieux but instead worked outside of Lisieux in a nearby town).
NOTE: You can subscribe to our new articles by entering your email address in the box on the right column (or at the very bottom of this article) and clicking on the button "Subscribe".

You will need to check your incoming emails and validate your subscription. If you can't see an email from us, check your Spam folder. Without validating your email address, you will not get notifications from us. WE WILL NEVER GIVE YOUR EMAIL ADDRESSES TO ANYONE!
Related Posts