This page forms part of a series of pages dedicated to the many artists who worked in Etretat. A full list of all the artists with a link to their works can be found at the bottom of this page. Movements: –
Alexandre Jean Noel, (1752 – 1834) was a French painter who was a student of Joseph Vernet. He produced seascape and landscape paintings in the style of his teacher.
In 1769, he joined astronomer Jean Chappe d'Auteroche on a scientific expedition to Baja California to observe the transit of Venus. On the trip, Noel served as the draftsman, capturing the journey in watercolor drawings.
The Secretary of the Academie Royale recommended the royal collection purchase these Mexican drawings, which were later added to the Musee du Louvre. Despite contracting yellow fever on the trip, Noel survived while the scientist did not. Little else is known about this talented artist.
Not much else is known about this artist.
NOTE: Click on the image below for a bigger version (no new window will open).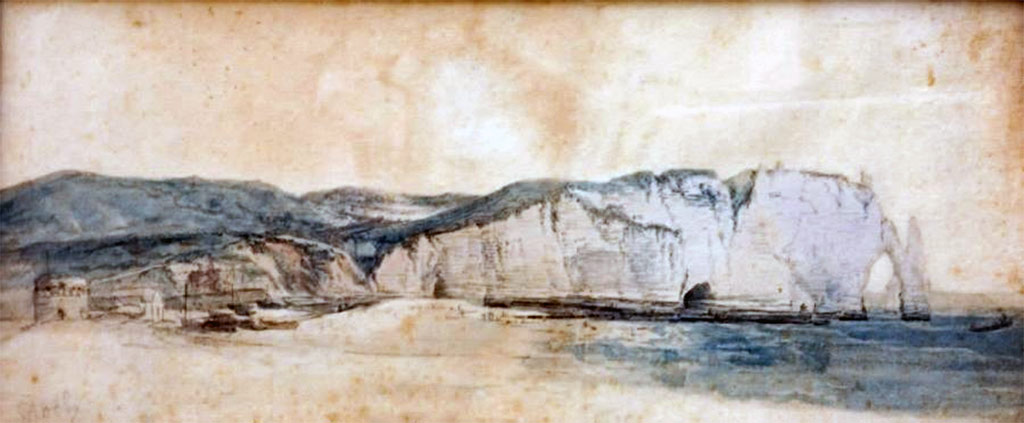 Alexandre Noel painted in the following places in Normandy (a link "⇠" to his works will appear below when published):
Etretat is the second most popular and visited place in Normandy (the first being Mont Saint-Michel). And since it was popular, many artists came here to be inspired by its nature and scenic environments. Here is a list of artists who worked in Etretat (a link "⇠" to their work will appear when published).
🇫🇷 Boudan, Louis *⇠
🇫🇷 Boudin, Eugene-Louis ⇠
🇫🇷 Braque, Georges ⇠
🇫🇷 Burel, Henry E. ⇠
🇫🇷 Caillebotte, Gustave ⇠
🇫🇷 Courbet, Gustave ⇠
🇫🇷 de Saint-Delis, Rene ⇠
🇫🇷 Friesz, Othon ⇠
🇫🇷 Gudin, Theodore ⇠
🇫🇷 Hoguet, Charles ⇠
🇫🇷 Huet, Paul ⇠
🇺🇸 Inness, George ⇠
🇫🇷 Isabey, Eugene ⇠
🇳🇱 Jongkind, Johan ⇠
🇬🇧 Kay, James ⇠
🇫🇷 Lebasque, Henri ⇠
🇫🇷 Lebourg, Albert ⇠
🇫🇷 Lepoittevin, Eugene ⇠
🇫🇷 Loiseau, Gustave ⇠
🇫🇷 Matisse, Henri ⇠
🇫🇷 Maufra, Maxime ⇠
🇫🇷 Maze, Paul ⇠
🇫🇷 Monet, Claude
🇫🇷 Noel, Alexandre Jean
🇷🇺 Polenov, Vasily
🇫🇷 Roullet, Gaston
🇫🇷 Schuffenecker, Claude-Emile
🇫🇷 Signac, Paul
🇨🇭 Vallotton, Felix
🇫🇷 Vollon, Antoine
NOTE: You can subscribe to our new articles by entering your email address in the box on the right column (or at the very bottom of this article) and clicking on the button "Subscribe".

You will need to check your incoming emails and validate your subscription. If you can't see an email from us, check your Spam folder. Without validating your email address, you will not get notifications from us. WE WILL NEVER GIVE YOUR EMAIL ADDRESSES TO ANYONE!
Related Posts
96

Maxime Maufra was a French landscape and marine painter, etcher and lithographer. He painted quite a few paintings in Normandy. Here are his paintings for Etretat, Normandy.

96

Antoine Vollon (1833 – 1900) was a French realist artist, best known as a painter of still lifes, landscapes, and figures. During his lifetime, Vollon was a successful celebrity, enjoyed an excellent reputation, and was called a "painter's painter". Here is 1 painting we found which he made in Etretat,…

96

Vasily Dmitrievich Polenov (1844 – 1927) was a Russian landscape painter associated with the Peredvizhniki movement of realist artists. His contemporaries would call him the "Knight of Beauty" as he embodied both European and Russian traditions of painting. Here is 1 painting he made in Etretat, Normandy.

96

Ambroise Louis Garneray (1783 – 1857) was a French corsair, painter and writer. He was held as prisoner-of-war by the British for eight years. He was in fact the first Peintre de la Marine. Here is one painting of his we found which he made in Etretat, Normandy.