Many people I have spoken with (or received emails from) find visiting a top restaurant, in this case a 3-Michelin star restaurant (the highest accolade you can get as a restaurant), daunting. Daunting for what goes on, and daunting for the money you need to fork out (pun intended).
As for the financial aspect, it's true! Top restaurants are more expensive than, let's say, McDonalds. And there's a good reason for this, since not only are all the food ingredients top notch, but all are fresh and hand picked. Many top restaurants even grow their own food, thereby making sure they always have the best food available, no chemicals are used and are always fresh. But all that comes at a price, making them far more expensive than McD.
But nevertheless, believe it or not, going to a top restaurant will not require a 2nd mortgage. Yes, some are very, very expensive, but some are just a bit more expensive than your neighbourhood bistro. The real costs added to the bill will be what you drink at the table. Drinking a good bottle of wine will easily double your bill at the end of the meal, especially if you have had a few drinks to start with.
TIP: If you want to have a moderate bill at the end of the meal, don't drink wine.
Of course, the meal price shown on the menu is only one part of the money you'll spend that day. Because no matter where you are eating in the world, you'll need to leave a few tips … doorman, coats, waiter, sommelier, head waiter (maitre d'hotel).. even if the service charges are included in the meal, it's the done thing. More on that further on.
Let's have a look at visiting the Paul Bocuse restaurant in Lyon (in fact, just outside Lyon). Paul Bocuse is a legend, an institution in the culinary world. Many of today's top chefs have worked for Bocuse, learning the art form from the master himself. He is the man holding on to his 3 stars for the longest, 50 years!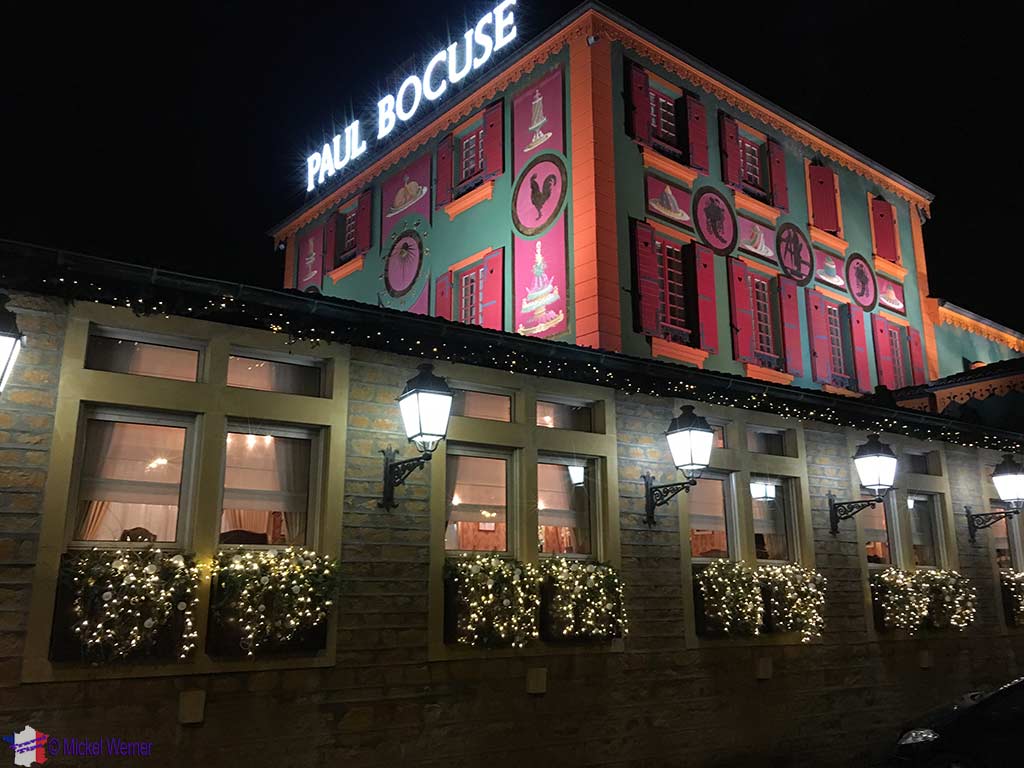 Like most top chefs, Bocuse has several restaurants, but the one where he lives is the Auberge du Pont de Collonges. This is his primary restaurant, and the first one he opened. But if you eat in one of his other restaurants, although it has his name associated to it, it does not mean he is actually cooking there. In fact, he is 90 years old and no longer cooks. But the same is true if you plan to eat at let's say Gordon Ramsay or one of the other big names. Ramsay has many restaurants all over the world, and most of them have 3 Michelin stars. His name and quality is associated to the place, but another top chef is doing the actual cooking. In other words, don't think that because you are eating as some famous chef's restaurant that he (most famous chefs are male, with a few exceptions) is doing the cooking. Maybe yes, maybe no….
In the Bocuse case, it is top chef Christophe Muller who wields the sceptre (or spatula).
Reservations
Obviously, you do not show up to one of these places without a reservation. You will often enough hear that to reserve a table at a 3 Michelin star restaurant requires patience; often you hear many months are needed to be able to eat there, some even a year in advance. While this is true during the high season, eating in the low season will usually only require a few days wait.
For example, in the spring/summer/autumn time, you will need to wait for months before getting a table at Bocuse. We went in the 1st week of January, and had a table in 2 days (as a side note, we will be eating at the world's best restaurant, Osteria Francescana, in March, at Modena in Italy, run by world's best chef Massimo Bottura, and the reservation only required 4 weeks beforehand).
TIP: So plan ahead for your reservations, look at going when it's a low season (usually winter).
Clothing
The days that you were expected to wear dinner jackets is over. I don't think any top restaurant requires gentlemen to wear a tie anymore. But most do expect you to dress properly, in other words, don't come wearing shorts, t-shirts and sandles. Most restaurants will not frown when you arrive in jeans, but my suggestion is to wear normal trousers (unless you are a woman… a dress/skirt will do fine).
Etiquette
The way things are done will differ in each restaurant, but if you think you can tip the Maitre d'Hotel a $50 to get a better table, think again. Coats are normally handed over to the cloakroom staff (don't forget to take out your credit cards if you are the one paying, and don't forget your camera). Yes, you will need to tip these folks when you recover your coats.
The main etiquette in these types of restaurants is to be reasonably quite, not to disturb the other patrons. It's not a public library, so you'll be able to talk at your normal voice, but no shouting or hard laughter. You'll find that most tables are set apart to leave you enough privacy to have private conversations.
Taking photos of your food is fine and accepted nowadays in almost all restaurants. Some even think it's a badge of honour.
Service
The other thing that sets most top notch restaurants apart (obviously the food is the main difference) is the service. You'll notice more staff per patron in a 3-Michel star restaurant than anywhere else. So service is going to be exceptional, and you're paying for it.
You are not expected to pour your own wine/water/drinks. Anything in a bottle will be put aside, and waiters should be paying close attention to each table's glass levels. If it's going down, they'll hurry and fill it up again. Service should be invisible.
The really good service levels can be seen when waiters are ready to bring the food, but wait for the patrons to finish the conversation, so as not to disturb them.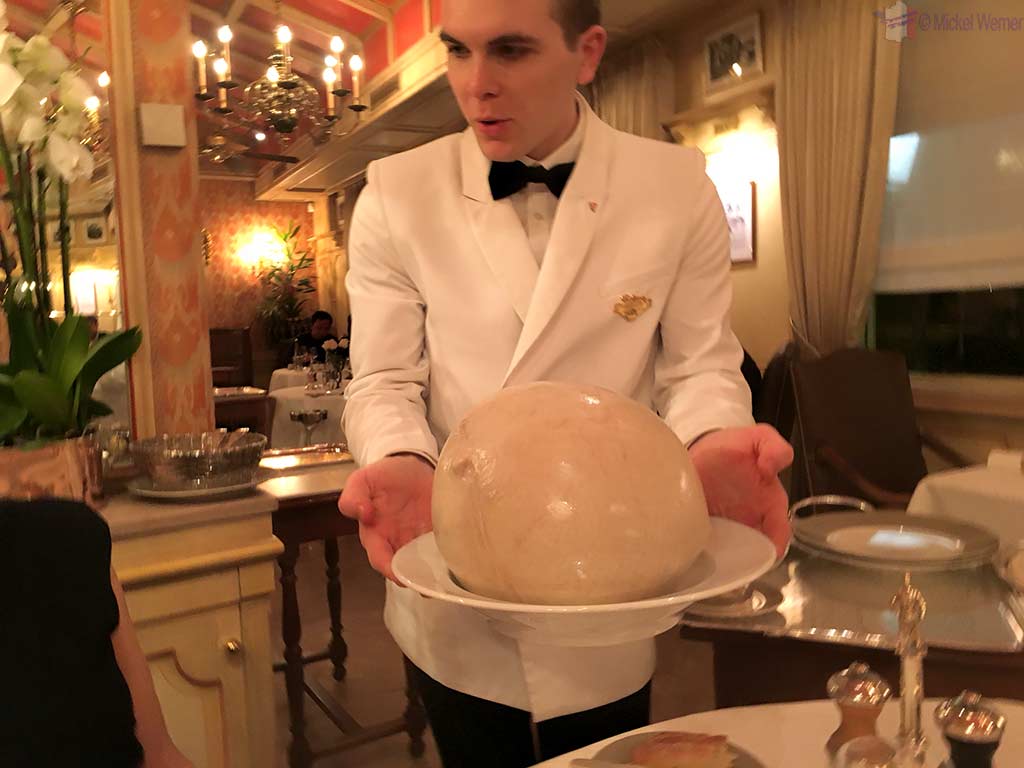 Often there are parts of the menu which are prepared at your table. In the example below, a whole chicken cooked in a bladder is cut and served at our table.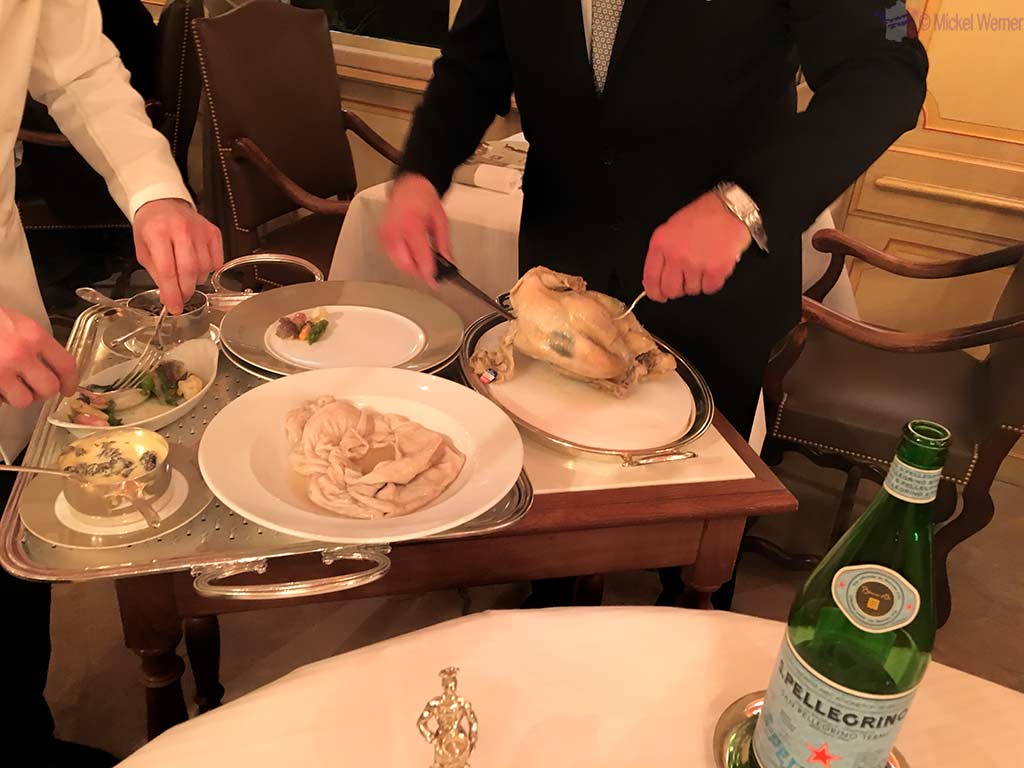 Kitchen Visits
This is something many people want to do, but think it's not allowed. But you'll find if you just ask, they will arrange for you to visit the kitchen. Many restaurants will actually suggest it (sometimes at the end of the meal), but in any case always just ask. Some even have glass walls so that you can see what's going on in the kitchen.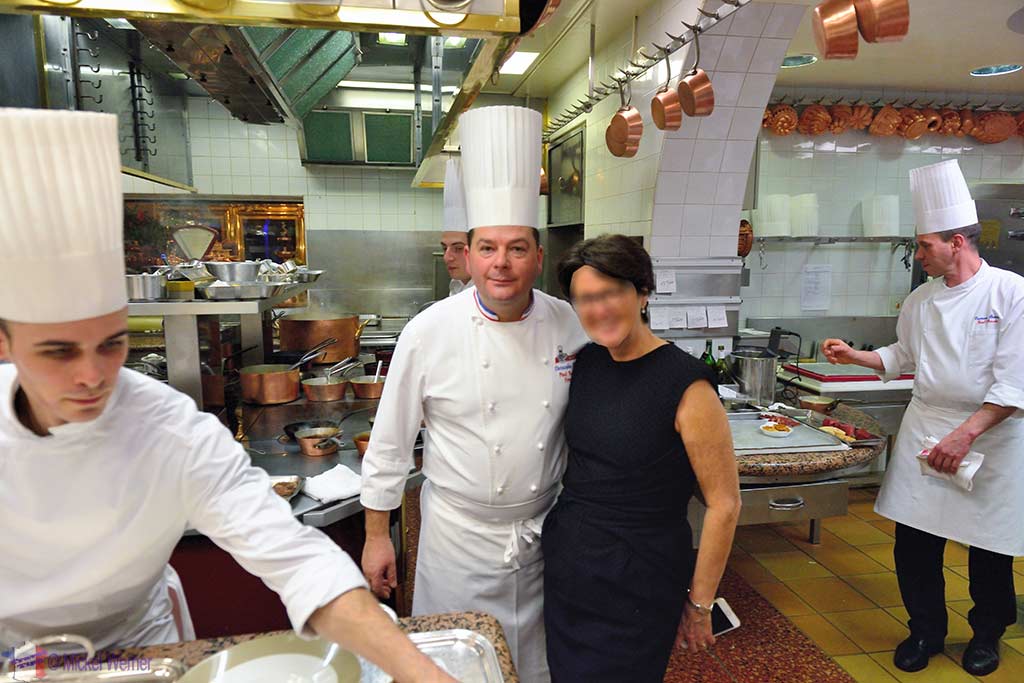 And don't forget to bring your camera…. Here at Paul Bocuse, the chef even poses with his patrons.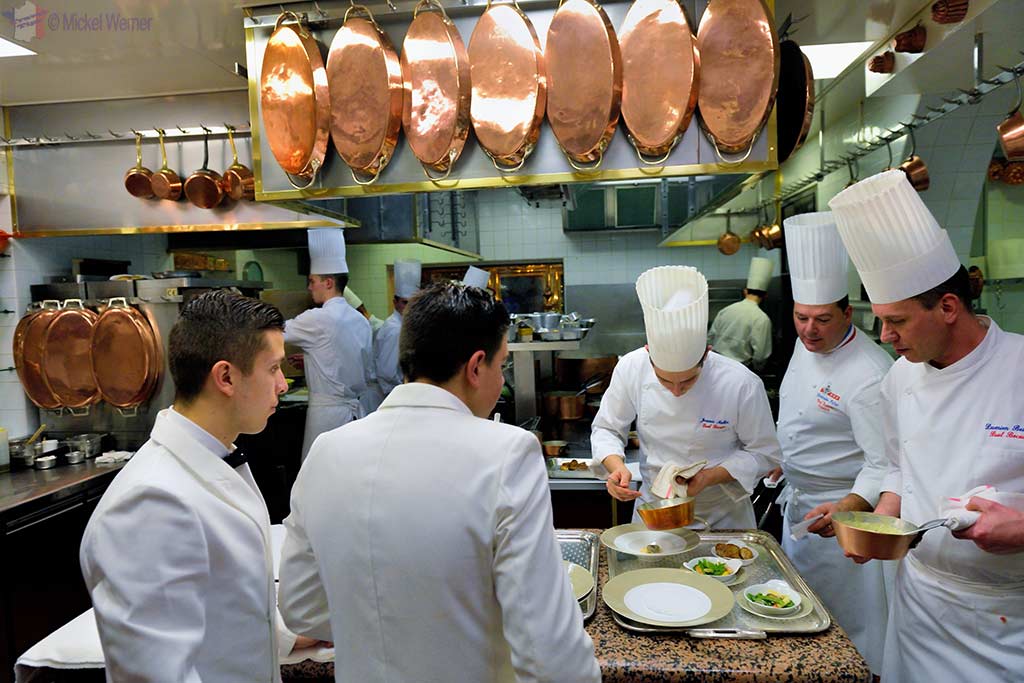 You can snap any pictures as long as you don't get in the way of the busy kitchen.
NOTE: In France, top chefs are seen as superstars. Many, if not most, French people can name the top chefs by heart. Top chefs are celebrities, just like film and music stars. So asking the chef to sign your menu is not unusual as a request.
The Food
No matter what kind of restaurant (modern, nouvelle cuisine, traditional, fusion, etc), you can expect to eat a lot. Some will be heavy, some not, but there will be many things to eat. Don't think that if you select 3 items from "A La Carte" (in other words, not from the preset menus), that you'll only get three dishes (starter, main and desert). Oh no, not at all….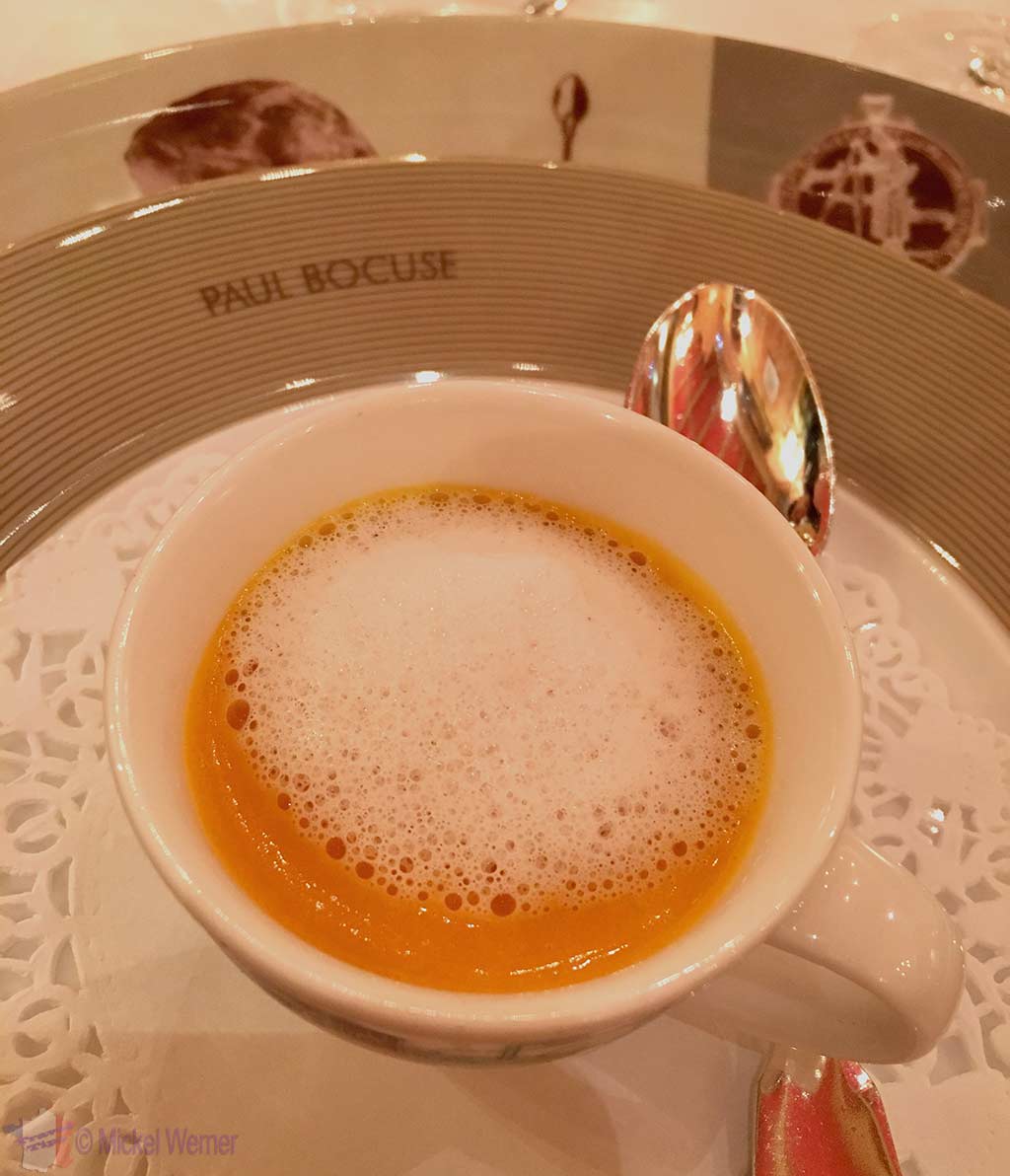 You will always get at least one pre-starter (called an "amuse-bouche"). Some will give you one, some two, maybe even three. These items are to get the juices flowing, and to prepare your tastebuds for an onslaught.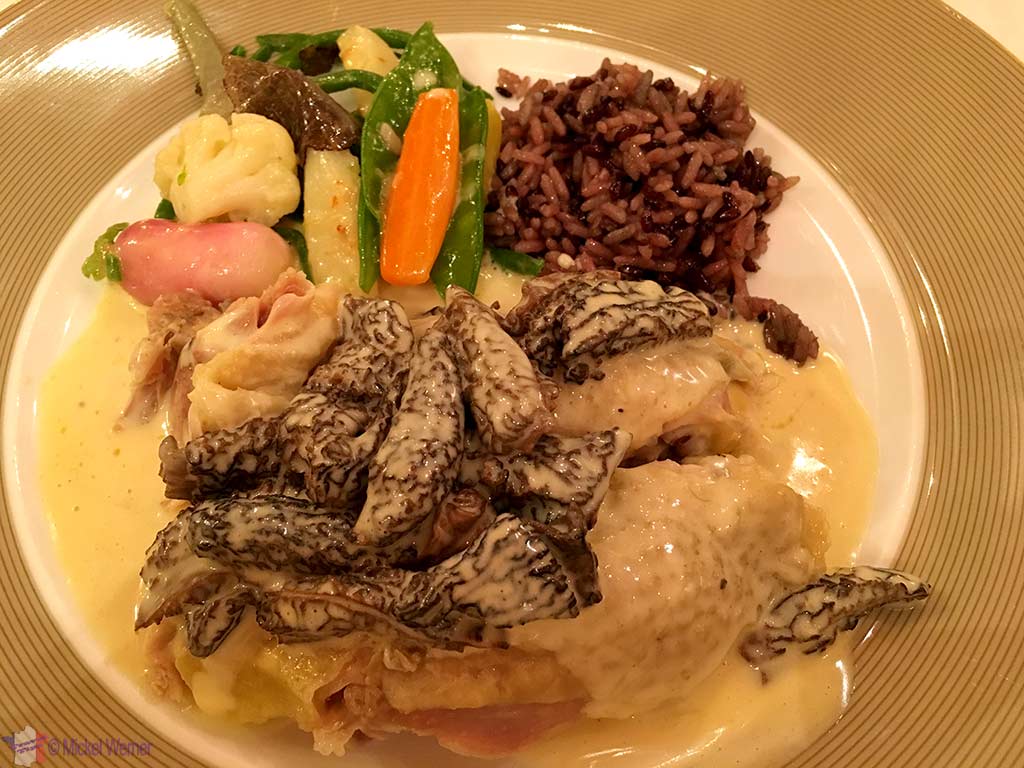 The main dish is often the biggest portion of the meal. Now in the example above, it looks a lot, and it was. Really a lot of food. In fact, we had a whole chicken for two (4 to 6 could have eaten it). But it's not the big portion size that counts, it's what it is cooked in: a lot of cream and butter. But if you go to a modern or nouvelle-cuisine establishment, you'll find the portions smaller, but often more dishes. So in the end, you still end up eating a lot.
And when you are eating, never forget that there's always more to come….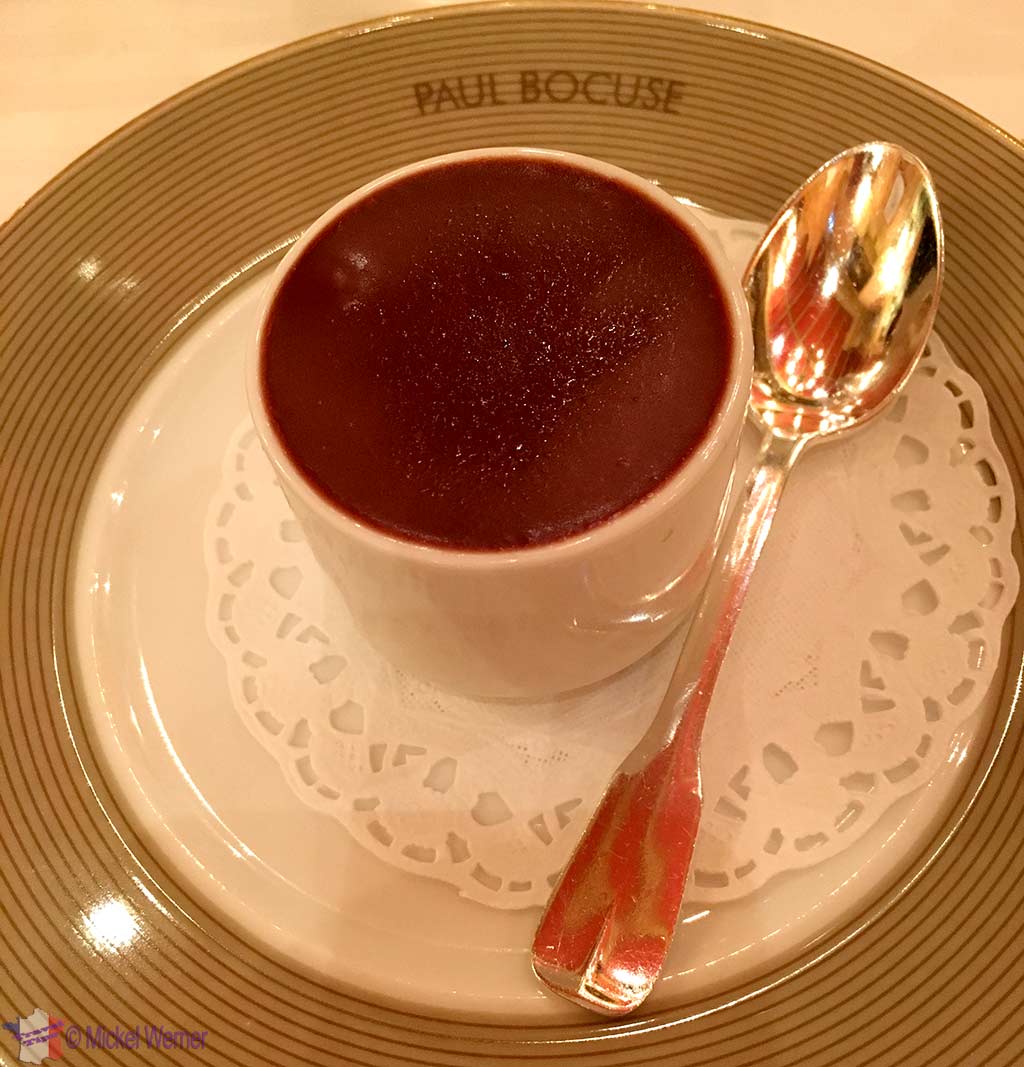 This chocolate & cherry teaser was just to get our tastebuds ready for the sweet stuff….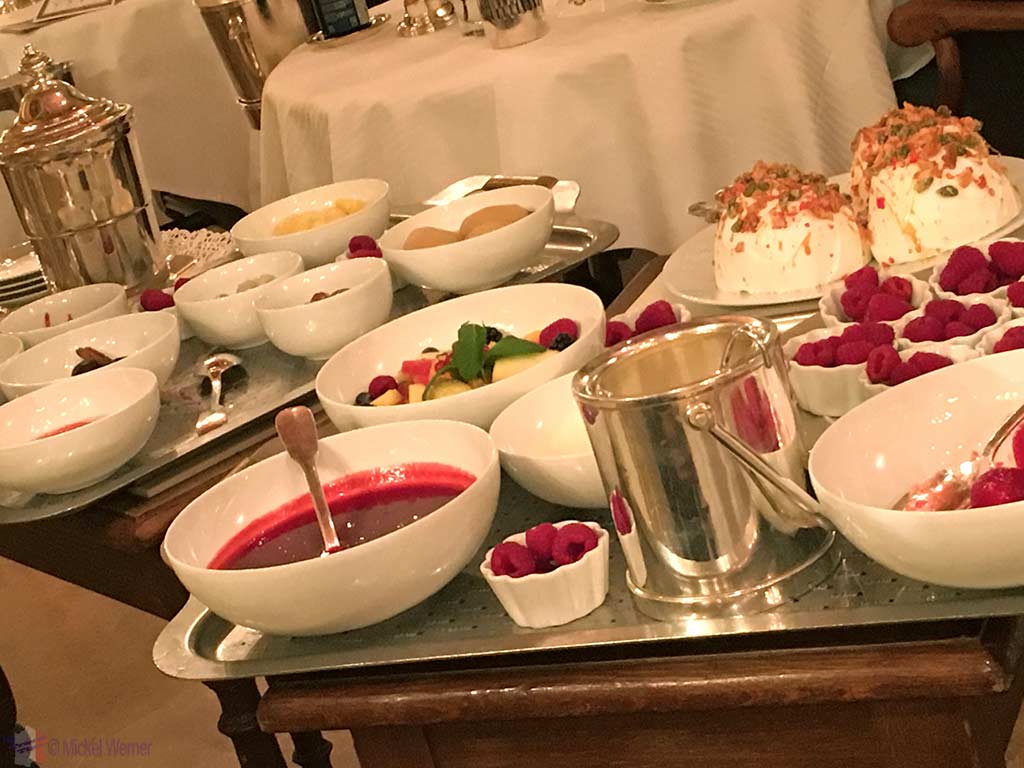 At Bocuse, the sweets trollies were brought to our table, and the waiter/server made a desert on the spot (and yes, you can ask for seconds). You just point at what you wanted, and it was put on the plate (we did skip the cheese, luckily.. since this was a lot).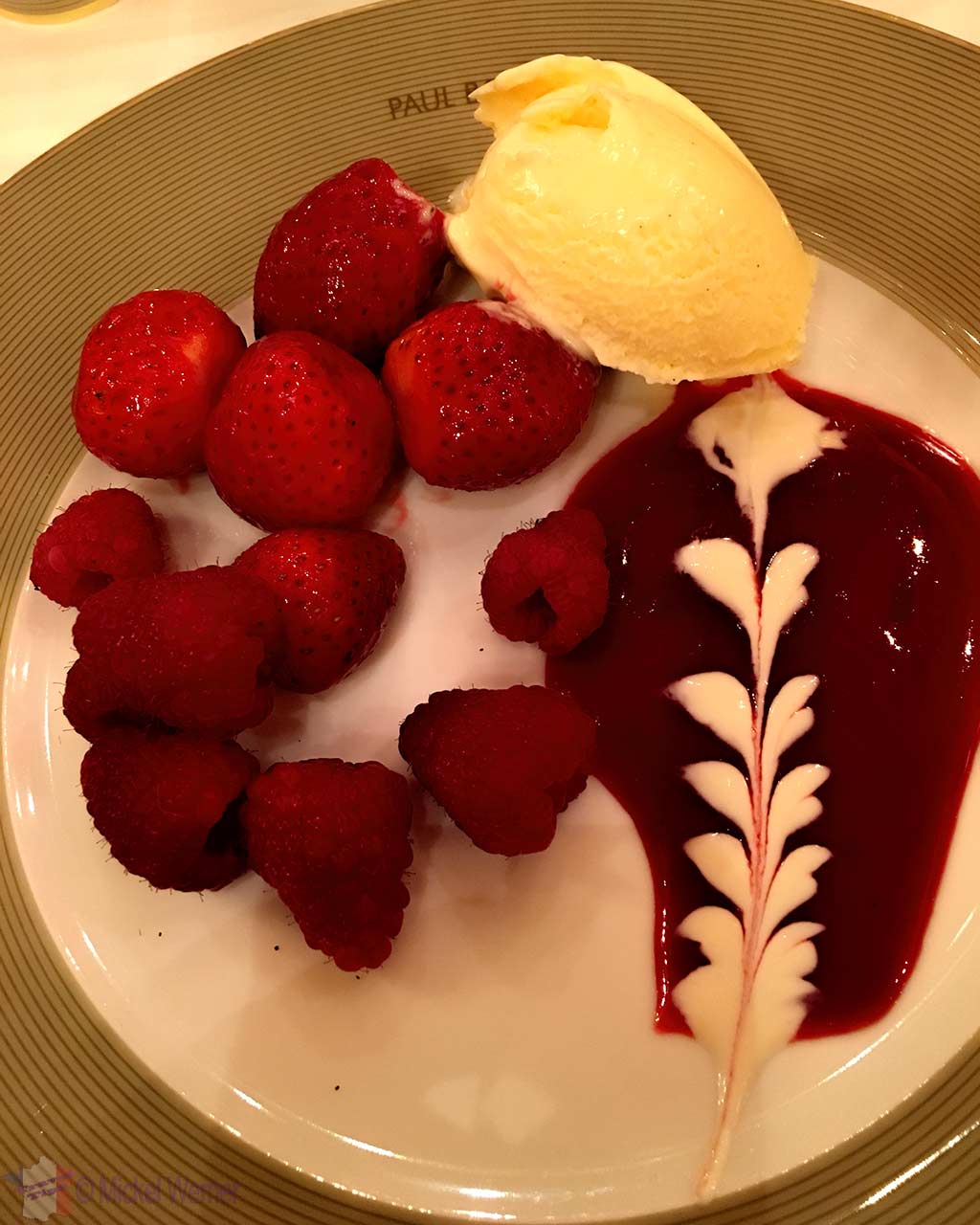 Menu or A La Carte
Usually the restaurants have preset menus and an "a la carte" selection. If you really want to try things out, you'll usually find in the preset menus a "Menu Gastronomique" (gastronomy menu) or "Menu Decouverte" (discovery menu). These contain often 7 to 10 dishes allowing you to try different items in the restaurant. It's a good way of tasting all sorts of excellent and savoury foods without making many different decisions.
TIP: If you are going to go for the discovery menus, better fast for a few days beforehand. In fact, no matter what you are going to select, eat very little the day before.
The "A La Carte" is you customising your own meal. Often it's more expensive when you add it all up compared to a preset menu, but it will depend on how much you take. Just do the math comparing prices between the individual items in a preset menu, but you'll find preset menu are financially sound.
TIP: Most of these restaurants have many copies of their menu, and you can just ask if you can keep yours.
Financials
As I said in the beginning, it's going to be expensive no matter where you eat, but it's relative. When the two of us ate at Bocuse, we did not have wine, just San Pellegrino, and we ate "A La Carte". Our final bill was … gulp…. €500. It's a lot, but then this is a 3 Michelin star restaurant, the top of the top. You can't buy a Rolls Royce for the price of a Ford Fiesta. Some 3 star restaurants will be more expensive, some less.
But it doesn't end there….  tips are the done thing. €50 at the table, €10 at the cloakroom, €10 for the doorman (if you had wine, you'll need to spend €30-€50 for the sommelier) … it all adds up. So let's say €600. It's not like you are doing this every month, or every year… maybe for a special occasion like an anniversary.
But it's something you'll remember for a very long time. I can still taste the food I had 6 weeks ago….
Conclusion
So if you have never gone to a 3 Michelin star restaurant, take the plunge. Splurge. Or if you want to slowly delve in, start with a 1 Michelin star restaurant. They are more "accessible" and always excellent.
My personal view is the 1 Michelin star restaurants are fantastically good, if not great, 2 Michelin stars are exceptional, but the biggest difference between 2 and 3 stars is the service level and the restaurant itself. IMHO, the food is usually as good in the 2 star restaurant as in a 3 star one.
So don't worry, just be happy. remember, you only live once, so enjoy it.