This page forms part of a series of pages dedicated to the many artists who painted in Dieppe. A full list of all the artists with a link to their works can be found at the bottom of this page.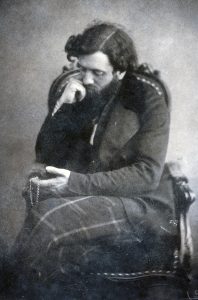 Movement(s): Photography
Jean-Louis-Henri Le Secq des Tournelles (1818 – 1882) was a French painter and photographer. After the French government made the daguerreotype open for public in 1839, Le Secq was one of the five photographers selected to carry out a photographic survey of architecture (Commission des Monuments Historiques).
Jean-Louis-Henri Le Secq des Tournelles was born in Paris, of an ancient noble family from Normandy. His father was a politician. Jean-Louis-Henri was trained in sculpture and worked in several studios. He was also a collector of wrought iron objects and the Musee le Secq des Tournelles in Rouen is devoted to him.
He started his photographic career while still working as a painter in the studio of Paul Delaroche.
He experimented with various photograph processing techniques together with his colleague Charles Negre and later worked with Gustave Le Gray learning the waxed-paper negative process. This process had the advantage that it produced negatives unlike the daguerreotype process.
He, along with Hippolyte Bayard, Edouard Baldus, Gustave Le Gray and Auguste Mestral (O. Mestral), was sent on Missions Heliographiques to document famous architectural monuments in France.
He worked mainly on cathedrals in Chartres, Strasbourg, Reims and near Paris. Cameras capable of taking large photographs, sized up to 51 cm by 74 cm, were used. His works during this Commission des Monuments Historiques are considered his finest.
In 1851 he became one of the founders of the first photographic organization of the world, the Societe heliographique (1851–1853), which was very short lived.
Le Secq des Tournelles gave up photography after 1856 but continued to paint and collect art. Around 1870 he started reprinting his famous works as cyanotypes because he was afraid of possible loss due to fading. He gave the reprints the dates of the original negatives, some of which are still in good condition.
Click here to read Le Secq's full bio on Wikipedia.
NOTE: Click on any image below for a bigger version (no new window will open).
NOTE: A black box like this one, means that there is an explanation text about today's situation of the painting above it.
NOTE: Click on this photo icon
anywhere below a painting to see a photo of what the area looks like today.
NOTE: A blue box like this one, means there is an explanation or a note.
TODAY: This is the place where today's ferry to the UK is moored.
Arques-la-Bataille
The town of Arques-la-Bataille (population: 2,700) is located close to Dieppe towards the South (inland). It's a town dominated by the ruins of a major castle.
TODAY: Despite several attempts to restore this imposing castle, it's still in ruins, but can be visited;
Le Secq made his photos (and paintings) all over France. Here are many of the places where he worked (a link "⇠" to his works will appear here when published):
Bourgogne-Franche-Comte
Centre-Val de Loire
Grand Est

La Porte-du-Der
Langres
Marmoutier
Molsheim
Montmirail
Reims
Rosheim
Strasbourg
Troyes

Hauts-de-France
Normandy
Pays de la Loire
Dieppe in Normandy was a popular place for artists to come and apply their art. Here is a list, non exhaustive, of the artists that painted in Dieppe.
A link ("⇠") to the artist's works will appear when published (a "*" indicates that the artist did not work directly in Dieppe, instead worked in nearby villages):
NOTE: You can subscribe to our new articles by entering your email address in the box on the right column (or at the very bottom of this article) and clicking on the button "Subscribe".

You will need to check your incoming emails and validate your subscription. If you can't see an email from us, check your Spam folder. Without validating your email address, you will not get notifications from us. WE WILL NEVER GIVE YOUR EMAIL ADDRESSES TO ANYONE!
Related Posts
94

Emile-Andre Letellier (1833 - 1893) was a French photographer who worked almost exclusively in Normandy, France. He became the Director of the monthly "Union photographique de France" magazine which was based in Le Havre, Normandy. Here are the photos he made in Dieppe and its surroundings in Normandy.

88

William Callow was an English landscape painter, engraver and water colourist. He travelled extensively in France, the Netherlands, Belgium, Germany, Switzerland and Italy, had a large number of pupils, and enjoyed favour with the royal family. Here are his paintings he made in Dieppe, Normandy.

88

Charles Edward Conder (1868 – 1909) was an English-born painter, lithographer and designer. He emigrated to Australia and was a key figure in the Heidelberg School, arguably the beginning of a distinctively Australian tradition in Western art. In 1890, he moved to Paris and studied at the Academie Julian, where…

88

Charles Ernest Cundall, (1890 – 1971), was an English painter of topographical subjects and townscapes, best known for his large panoramic canvases. Whilst serving with the Royal Fusiliers in World War I, he was wounded in the right arm and had to learn to paint with his left arm before…