This page forms part of a series of pages dedicated to the many artists who painted in Dieppe. A full list of all the artists with a link to their works can be found at the bottom of this page.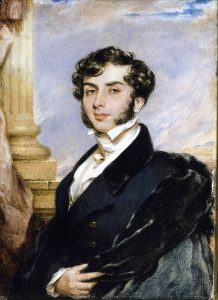 Movement(s): –
Francois Gabriel Theodore Basset de Jolimont (1787 – 1854) was a French artist, lithographer, painter and antiquary. de Jolimont was born at Martainville, not far from Rouen, on 8 February 1787, son of an advocate at the Norman parliament. He became interested in drawing at an early age. When his father died the family fortune was swallowed up by legal fees, and he had to live by his work as an artist. de Joliment acquired considerable talent in painting with gouache and watercolor, and used this skill in reproducing and restoring ancient illustrated manuscripts. He became a writer on art, water-colorist and paleographer. He became director of the Gymnase central de Paris.
He had a love of the ancient monuments of France, which he wished to preserve for ever. He created a great number of illustrations of buildings in Paris, Rouen, Moulins and Dijon, and as both artist and author published a number of illustrated works on the monuments in different cities.
King Louis-Philippe awarded him a gold medal for his 1845 book on the main buildings in Rouen of the year 1525.
Despite his talent and the volume of his work, de Jolimont always struggled with poor fortune. He died in Dijon on 27 October 1854.
Click here to read de Jolimont's full bio on Wikipedia.
NOTE: Click on any image below for a bigger version (no new window will open).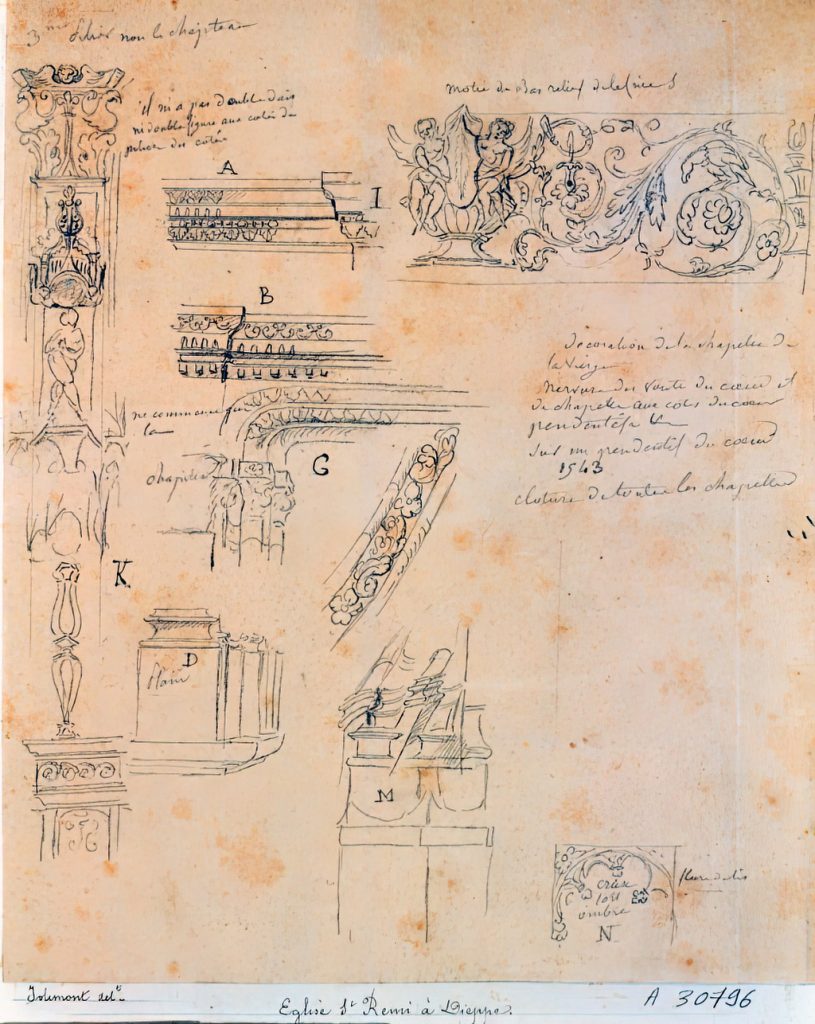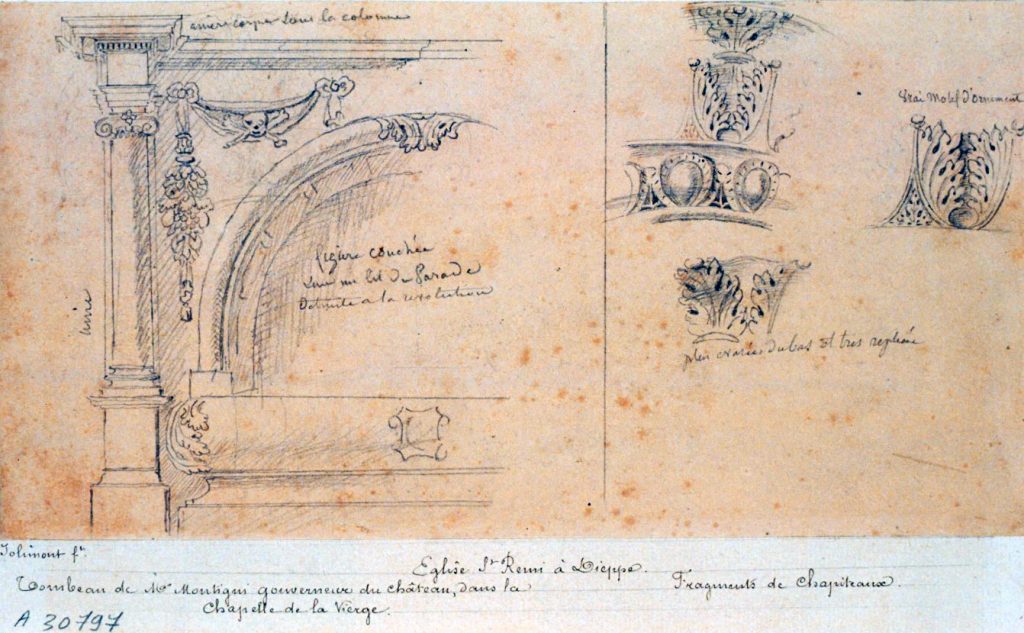 Mesnieres-en-Bray
Mesnieres-en-Bray is a small village that lies close to Dieppe on the South East.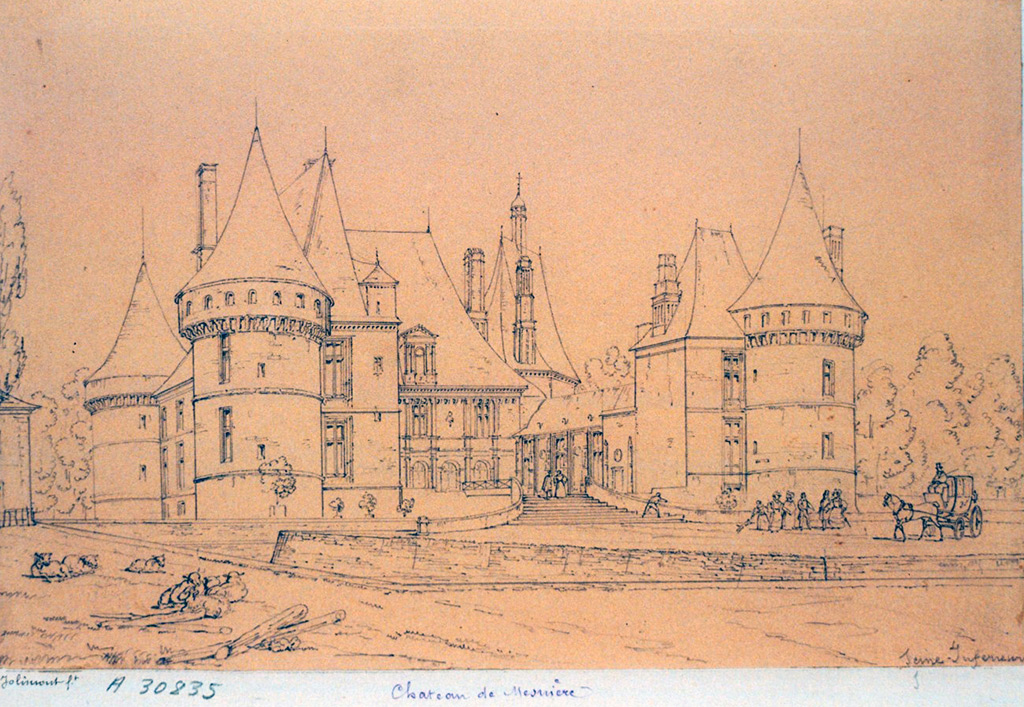 de Jolimont applied his arts all over France. He loved old monuments and buildings, and made many drawings of them. Here are the places he painted in (a link "⇠" to his works will appear here when published):
Auvergne-Rhone-Alpes
Bourgogne-Franche-Comte (Burgundy)
Centre-Val de Loire
Normandy

Caen (and surroundings) ⇠

Charmenay
Dieppe (and surroundings) ⇠
Eu
Fecamp (surroundings ONLY) ⇠
Forges-les-Eaux (and surroundings)

Beaubec-la-Rosiere
Le Thil-Riberpre

Les Yveteaux
Notre-Dame-de-Bondeville
Ouville-l'Abbaye
Rouen (and surroundings)

Canteleu
Jumieges
Saint-Martin-de-Boscherville
Villers-Ecalles
Dieppe in Normandy was a popular place for artists to come and apply their art. Here is a list, non exhaustive, of the artists that painted in Dieppe.
A link ("⇠") to the artist's works will appear when published (a "*" indicates that the artist did not work directly in Dieppe, instead worked in nearby villages):
NOTE: You can subscribe to our new articles by entering your email address in the box on the right column (or at the very bottom of this article) and clicking on the button "Subscribe".

You will need to check your incoming emails and validate your subscription. If you can't see an email from us, check your Spam folder. Without validating your email address, you will not get notifications from us. WE WILL NEVER GIVE YOUR EMAIL ADDRESSES TO ANYONE!
Related Posts
94

William Callow was an English landscape painter, engraver and water colourist. He travelled extensively in France, the Netherlands, Belgium, Germany, Switzerland and Italy, had a large number of pupils, and enjoyed favour with the royal family. Here are his paintings he made in Dieppe, Normandy.

94

Ambroise Louis Garneray (1783 – 1857) was a French corsair, painter and writer. He served under Robert Surcouf and Jean-Marie Dutertre, and was held as prisoner-of-war by the British for eight years after being captured before being repatriated at the conclusion of the Napoleonic Wars, continuing his career as a…

93

Charles Ernest Cundall, (1890 – 1971), was an English painter of topographical subjects and townscapes, best known for his large panoramic canvases. Whilst serving with the Royal Fusiliers in World War I, he was wounded in the right arm and had to learn to paint with his left arm before…