Transport
Getting there
By Car

By Train
From
Via
Time
Time
Calais
A16, A28, A10
8 hours
via Paris (station change)
6:30 hours
Paris
A10
5 hours
TGV, change at Angouleme
2 hours
Dieppe
A28, A10
7 hours
Not Possible
Le Havre
A28, A10
6 hours
via Paris (station change)
6 hours
Cherbourg
A13, A84, A83
6 hours
via Paris (station change)
7:30 hours
Marseilles
A62, 10
7:30 hours
via Paris (station change), change at Angouleme
6:30 hours
Air: The Cognac airport is shared with Angouleme, but there are no scheduled or charter flights. The airport is used by private planes and military. Click here to access their website.
The closest international airport is that of Bordeaux Merignac, 1:45 hours drive (130 km).
Ferry: Sorry, Cognac is inland.
Bus: There are several long distance bus operators in France (and Europe), but none operate from/to Cognac. The nearest places would be Saintes or Angouleme.
Within Cognac
Cognac is small and flat, so walking around the city is easy (even on a hot day). The city operates a network of buses, both within the city and in immediate area. The service is called Transcom. An hour ticket cost €1 (allowing you to change as many times within the hour). Click here to access their website for the schedules (in French only).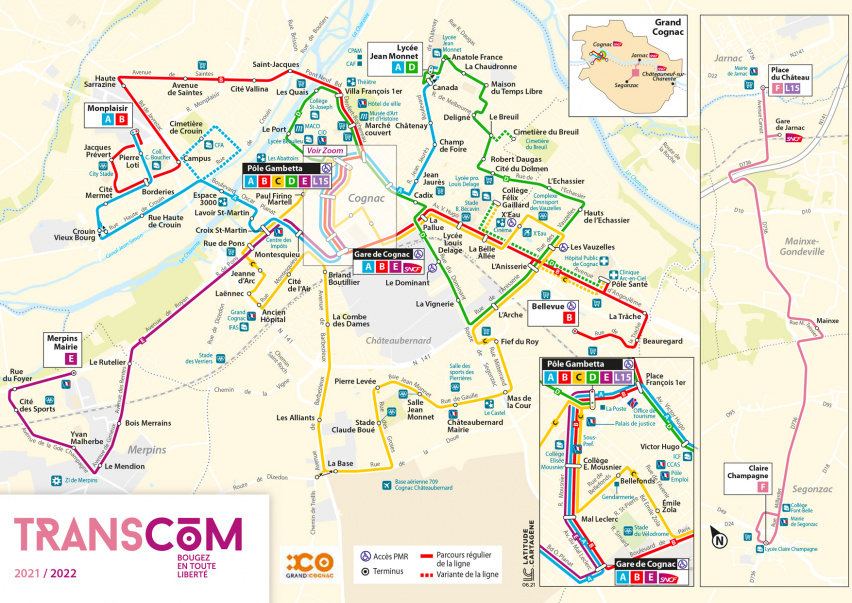 Restaurants
There are some 65 restaurants in Cognac. There is one 1 Star Michelin restaurant in Cognac (Les Foudres) which is part of a luxury hotel/spa. The remainder are a mixture of classical French food, fast foods, crepes and one very good Thai restaurant (Baan Thai).
Hotels
There are only some 12 hotels in Cognac itself (in the suburbs there are many others). We tried the Hotel Francois 1re, and it was quite good, efficient and friendly. Click here to access their website.
Things To See/To Do
Obviously visit the Cognac distilleries. There are several of them in town.
.

.

.
Walk in the beautiful public park and admire City Hall.
.

Visit the Cognac Castle (Click here to access their website for more information on opening times and prices.)
.

Visit the Cognac Tourist Office (next to the public park). Click here to access their site.
.

Related Posts
71

Cognac is the capital of the cognac alcohol drink. There are several distilleries here. But as a city itself, it's not that interesting, since it's not pretty.