This page forms part of a series of pages dedicated to the many artists who painted in Caudebec-en-Caux. A full list of all the artists with a link to their works can be found at the bottom of this page.
NOTE: Caudebec-en-Caux has recently merged (2016) with other towns nearby and is now called "Rives-en-Seine". However, since the artists called the town by its original name in their paintings, we will continue to refer to the place by its old name.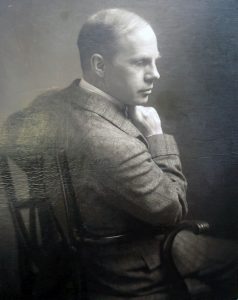 Movement(s): –
Sir David Young Cameron RA (1865 – 1945) was a Scottish painter and etcher. Cameron was the son of the Rev. Robert Cameron and was born in Glasgow, Scotland. He was educated at The Glasgow Academy. From around 1881 he studied at the Glasgow School of Art and in 1885 enrolled at the Edinburgh Schools of Art. Cameron became a skilled etcher making a name for himself in this medium and gaining international recognition by the 1890s.
As well as becoming well known as an etcher the artist also produced a great many oil paintings and watercolour sketches of landscapes and architectural subjects. Cameron's earliest known oil painting dates to 1883.
In 1899 Cameron and his wife moved to Kippen in the Scottish Highlands. This was near to Stirling with views of Ben Lomond and across to Stirling Castle. They lived in the village for rest of their lives, as well as keeping a house in London. They also made regular trips abroad including visits throughout Italy and France. Italy provided the inspiration for a number of etchings of architectural subjects, with church interiors proving successful. His etchings, which examined light and shade, again show the influence of the Hague School as well as Whistler and Rembrandt.
Visits to France and Italy in the 1920s seemed to have a further influence on his works and brought about a much brighter palette. His painting can be characterised by an interest in tone and design over colour and detail. At the same time there was a shift in influence away from the Glasgow-Boys and their decorative style and he became known for his atmospheric highland landscapes.
Cameron died in Perth, Scotland on 16 September 1945.
Click here to read Cameron's full bio on Wikipedia.
NOTE: Click on the image below for a bigger version (no new window will open).
Cameron painted mostly in Scotland, but did travel to Italy and France where he painted in the following cities and towns (a link "⇠" to his works will appear below when published):
Centre-Val de Loire
Hauts-de-France
Normandy
Provence-Alpes-Cote d'Azur
Artists featured here who painted in Caudebec-en-Caux (but not limited to) are (names marked with a "*" indicates that the artist did NOT work directly in Caudebec, instead worked in villages nearby):
🇫🇷 Binet, George ⇠
🇺🇸 Boggs, Frank Myers ⇠
🇫🇷 Boudan, Louis ⇠
🇫🇷 Boudin, Eugene-Louis ⇠
🇬🇧 Boys, Thomas Shotter * ⇠
🇬🇧 Burgess Jr, John * ⇠
🇬🇧 Callow, William ⇠
🇬🇧 Cameron, David Young ⇠
🇬🇧 Childers, Milly ⇠
🇫🇷 Corot, Jean-Baptiste Camille * ⇠
🇬🇧 Cundall, Charles ⇠
🇦🇺 Davies, David ⇠
🇬🇧 Dolby, Edwin ⇠
🇫🇷 Dufy, Raoul ⇠
🇫🇷 Gernez, Paul-Elie ⇠
🇫🇷 Gudin, Theodore ⇠
🇫🇷 Lemaitre, Leon-Jules ⇠
🇬🇧 Prout, Samuel * ⇠
🇬🇧 Smallwood, William Frome * ⇠
🇫🇷 Thorigny, Felix * ⇠
NOTE: You can subscribe to our new articles by entering your email address in the box on the right column (or at the very bottom of this article) and clicking on the button "Subscribe".

You will need to check your incoming emails and validate your subscription. If you can't see an email from us, check your Spam folder. Without validating your email address, you will not get notifications from us. WE WILL NEVER GIVE YOUR EMAIL ADDRESSES TO ANYONE!
Related Posts
96

Ambroise Louis Garneray (1783 – 1857) was a French corsair, painter and writer. He held as prisoner-of-war by the British for eight years. Here is the one painting of his we found dedicated to Caudebec-en-Caux, Normandy.

96

Edwin Thomas Dolby (1824 - 1902) was a British painter. He was a draughtsman, illustrator and lithographer who specialised in views of churches. Not much else is known about this artist. Here are his paintings he made in Caudebec-en-Caux (now called "Rives-en-Seine"), Normandy.

95

Here are all the artists featured on our site that have painted in Caudebec-en-Caux in Normandy. There's a map with one location per artist per city. Use the map to look at all that artist's works of art.

95

Frank Boggs was an American (and later French) painter (born in the USA, died in France). He studied art in Paris, and travelled between France (Normandy), The Netherlands, Italy and Belgium. He naturelized to French citizenship. He is buried next to his artist son in Paris. Here is the one…