This page forms part of a series of pages dedicated to the many artists who worked in Bayeux. A full list of all the artists with a link to their works can be found at the bottom of this page.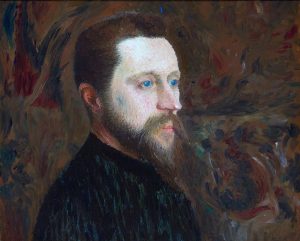 Georges Pierre Seurat (1859 – 1891) was a French post-Impressionist artist. He devised the painting techniques known as chromoluminarism and pointillism and used conté crayon for drawings on paper with a rough surface.
Seurat's artistic personality combined qualities that are usually thought of as opposed and incompatible: on the one hand, his extreme and delicate sensibility, on the other, a passion for logical abstraction and an almost mathematical precision of mind. His large-scale work A Sunday Afternoon on the Island of La Grande Jatte (1884–1886) altered the direction of modern art by initiating Neo-Impressionism, and is one of the icons of late 19th-century painting.
His father, Antoine Chrysostome Seurat, originally from Champagne, was a former legal official who had become wealthy from speculating in property, and his mother, Ernestine Faivre, was from Paris. Georges had a brother, Emile Augustin, and a sister, Marie-Berthe, both older. His father lived in Le Raincy and visited his wife and children once a week at boulevard de Magenta.
Georges Seurat first studied art at the Ecole Municipale de Sculpture et Dessin, near his family's home in the boulevard Magenta, which was run by the sculptor Justin Lequien. In 1878, he moved on to the Ecole des Beaux-Arts where he was taught by Henri Lehmann, and followed a conventional academic training, drawing from casts of antique sculpture and copying drawings by old masters.
Where the dialectic nature of Paul Cezanne's work had been greatly influential during the highly expressionistic phase of proto-Cubism, between 1908 and 1910, the work of Seurat, with its flatter, more linear structures, would capture the attention of the Cubists from 1911. Seurat in his few years of activity, was able, with his observations on irradiation and the effects of contrast, to create afresh without any guiding tradition, to complete an esthetic system with a new technical method perfectly adapted to its expression.
Click here to read George Seurat's full bio on Wikipedia.
NOTE: Click on any image below for a bigger version (no new window will open).
NOTE: To our knowledge, Seurat did not work in Bayeux itself, but instead worked in nearby Grandcamp and Port-en-Bessin.
Grandcamp-Maisy
The town of Grandcamp-Maisy (population: 1,630) lies to the North/West of Bayeux along the coast.
Port-en-Bessin-Huppain
The town of Port-en-Bessin-Huppain (population: 2,000) lies to the North/West of Bayeux alongside the coast.
Seurat painted mostly in the Paris region, but he did work in some parts of France as well. Here are the places he painted in (a link "⇠" to his works will appear when published):
Artists featured on our site who painted in Bayeux (but not limited to) are (a "*" indicates that the artist did not work directly in Bayeux, instead worked in a nearby town):
NOTE: You can subscribe to our new articles by entering your email address in the box on the right column (or at the very bottom of this article) and clicking on the button "Subscribe".

You will need to check your incoming emails and validate your subscription. If you can't see an email from us, check your Spam folder. Without validating your email address, you will not get notifications from us. WE WILL NEVER GIVE YOUR EMAIL ADDRESSES TO ANYONE!
Related Posts