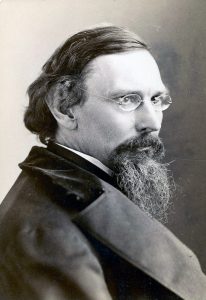 Movement(s): Barbizon
George Inness (1825–1894) was a renowned American landscape painter, known today as one of the most important artists of the 19th century. Inness began his career influenced by the Hudson River School, but later studied the Old Masters and artists of the Barbizon school during his trips to Europe. There, he was introduced to Emanuel Swedenborg's theology, which had a profound impact on him, leading him to express spirituality in his mature works (1879–1894).
Inness's style changed throughout his 40-year career and 1,000 paintings, but his works always received praise for their ability to evoke mood, atmosphere, and emotion. He combined realism and impressionism to capture the essence of a location and was known for his mastery of light, color, and shadow. He often combined hazy elements with sharp details to show both the physical and spiritual nature of a scene. In his words, he aimed to show the "reality of the unseen" and link the "visible to the invisible."
Inness passed away in 1894 in Scotland, while viewing the sunset. According to his son, he exclaimed "My God! Oh, how beautiful!" before collapsing and passing away minutes later.
For more information on Inness, click here to visit his Wikipedia page.
To our knowledge, George Inness only painted in one town in France:
Related Posts
92

Charles-François Daubigny, French, was one of the painters of the Barbizon school, and is considered an important precursor of impressionism. He was also a prolific printmaker, mostly in etching but also as one of the main artists to use the cliché verre technique. Initially Daubigny painted in a traditional style,…

79

Theodore Alexander Weber (1838 - 1907) was born in Leipzig, Germany and died in Paris, France. He was a German painter who took the French nationality in 1878.

79

Florent Fidèle Constant Bourgeois (1767 – 1841) was a French landscape painter, engraver, and lithographer. He studied under Jacques-Louis David, but spent much of his time in Italy.